Brace Yourself: The Polar Vortex Is Making a Comeback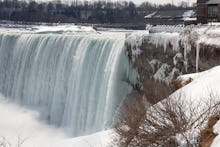 The news. This winter is going to be just as miserable as last years.
And the polar vortex is partly to blame. According to the meteorologists at AccuWeather, frigid air is going to seep into the country's midsection and Northeast as early as November, with the polar vortex dropping down from time to time for a shock of even colder weather.
Forecasters expect the brunt of the bone-chilling temps to occur in January and February, when blasts of arctic air could send temperatures below zero and will make you regret ever leaving bed. That sure sounds depressing, but meteorologist Paul Pastelok told AccuWeather.com the weather won't be as bad as last winter's.
"I think, primarily, we'll see that happening in mid-January into February but again, it's not going to be the same type of situation as we saw last year, not as persistent," he said. "The cold of last season was extreme because it was so persistent. We saw readings that we haven't seen in a long time: 15- to 20-below-zero readings."
People in more than two dozen states from the Southeast to the Northeast felt last year's polar vortex. It's a weather phenomenon where frigid air breaks free from the North Pole and plunges south to areas (i.e., the U.S.) that aren't accustomed to it.
What about snow? That's going to slam much of the eastern part of the country, too. Pastelok expects higher-than-normal snow amounts for cities west of the I-95 corridor, including Baltimore, Harrisburg and Philadelphia.
Travel in and out major cities like Washington, D.C., Boston and New York will also be affected by the snow. He expects around 70 inches of snow, which is well above average, to slam Philadelphia. New York City's total snowfall will also likely be above average.
Looking west. All this news of moisture affecting the east doesn't mean our dry western states will get any relief. Especially in California, where a hazardous drought grips much of the state.
As California suffers through its fourth and most extreme year of drought, the state is in dire need of precipitation this winter.
"California, the northern Sierra and Sierra Nevada are going to be below normal, although I do think that they are going to get enough snow to hold back the drought just a little bit from getting any worse than it is," Pastelok said.
And the little bit of precipitation won't be enough to prevent next year's intense wildfires. December will bring some rain to northern California, but the precipitation will ease off in the following months, making the region drier than normal by February. And after a season of wildfires, the Northwest won't get enough rain to prevent a repeat in 2015. 
There is some good news. At least for skiers, anyway. All of that precipitation affecting the Appalachian Mountains and parts of the California mountains will mean large amounts of snow for winter weather fans. 
So, yay for Bode Miller?
h/t Washington Post