Watch Shepard Smith Destroy Ebola Fear-Mongering In Just Four Minutes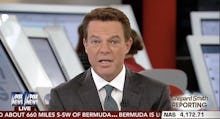 Listen up, everyone: Fox News host Shepard Smith, of all people, has some wise words about how the supposed "Ebola outbreak" in the United States should really be covered.
Smith took a brief break during his regular program, Shepard Smith Reporting, Wedneday to wag his journalistic finger at reporters — including ones on his own network — for causing panic about the disease, which is nearly impossible to catch. 
The moment of Zen came after a piece with reporter Doug McKelway, who said that Ebola has caused "widespread panic across the country." That sparked Smith to shoot back: "Oh my God. Doug, I appreciate it, but I think we both know there's no widespread panic across the country." 
It's a remarkable act considering his own network has repeatedly been the source of talk of panic. Dr. William Schaffner shot down a Fox News anchor's breathless questions about an Ebola-infected health care worker who boarded a flight from Cleveland to Dallas, telling anchor Jon Scott that the "epidemic of anxiety out there [is] much larger than the actual number of patients with Ebola."
Fox News isn't the only network playing the panic card. CNN ridiculously asked if Ebola is "the ISIS of biological agents" during a segment on Legal View last week. "Does that mean that it is that deadly, that dangerous or just that it needs to be treated with the same kind of strategy?" asked anchor Ashleigh Banfield. Uh, no?
As journalist Jonathan Katz wrote for Mic, the American media "is in full out panic mode" and it's making the situation look worse than it truly is. "CNN's instantly infamous chyron 'Ebola: The ISIS of biological agents?' is only one of the more spectacular of the genre," scoffs Katz. "Fox News' Elisabeth Hasselbeck took the opportunity for some old-fashioned time-of-plague xenophobia. MSNBC greeted the first stateside diagnosis of the viral infection with all the subtlety of a horror movie ad campaign ... The commentary on cable networks has been comic, if viewers can stop screaming long enough to laugh."
We're sure viewers at home are happy to enjoy a panic-free update from a TV newscaster. And if you're a journalist or broadcast reporter watching at home, do us all a favor and use Smith's cool and collected critique as a guide for the rest of your coverage.