Evan Rachel Wood Reveals an Ugly Truth About Hollywood and Young Female Bodies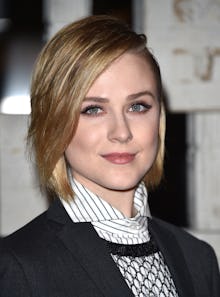 In July 2003, the Olsen twins, Hilary Duff, Mandy Moore, Amanda Bynes, Alexis Bledel, Lindsay Lohan, Raven Symone and Evan Rachel Wood graced the cover of Vanity Fair as the next generation of teenage stars. It was a particularly iconic moment in pop culture at the time, and it stands as a testament to the high-wattage spotlight focused on some celebrities from a young age.
But new revelations from one of the young ingenues featured on the cover raises the question: At what cost?
The promo video for the 2003 shoot seems to show the teen stars having a great time on set getting their makeup done and expertly posing for the camera. But Wood told a very different story in a heartbreaking series of tweets posted Wednesday night: 
At 15, Wood already had a TV series, Once and Again, and a hit movie, Thirteen, under her belt. Although she was generating serious buzz, she still had no idea what it was like to be handled, packaged and ultimately marketed to the masses.
In the above Twitter conversation, Wood claims that even though she expressed her discomfort wearing the chosen outfit, stylists dismissed those concerns, at once creating a situation where she felt stripped over the ownership of her body and her dignity.
The cover was meant to present a more fresh-faced spread, but there's no denying the sexualized nature of the teens' poses. If Wood's story is true, it's the perfect example of how Hollywood treats celebrities, even young ones, more as products — and in this case, props — than human beings. 
It's been over a decade since the photos ran. Of the nine women on the cover, a full third — Lohan, Bynes and Mary Kate Olsen — have found themselves in rehab at least once. 
Image Credit: Getty
Lohan and Bynes are perhaps the most dramatic recent examples of the dangers of teen stardom. But they are certainly not alone: Disney starlet Demi Lovato has been upfront about her struggle with an eating disorder, and  singer Kesha — who spent time in rehab for an eating disorder of her own — just came forward with allegations that her former producer abused her to the point she starved herself, and that she was also sexually assaulted.
The morbid fascination for the rise and then messy fall of celebrities has to end. Wood has gone on to a sometimes unconventional but objectively lucrative career. Why does someone like Wood or Bledel succeed while their peers struggle?
Hopefully, Wood's words: "Since then, I have found my voice. Never again. #neverforget" will resonate this time. Young women shouldn't be denied wearing pants and treated like meat to sell magazines.