Jimmy Fallon Is Actually a Pop Music Genius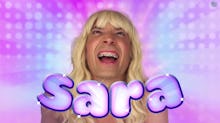 Jimmy Fallon's teenage alter-ego, "Sara" (no H!), finds a lot of things aggravating. Reclining in airplane seats, Trapper Keepers, retweets and annoying step-dads named Gary. But the real Fallon isn't finding much to complain about now that he's finally achieved his lifelong dream: charting on the Billboard Hot 100.
Only a week after its viral debut, the comedic single "Ew!" hit No. 26 — and, fittingly, Fallon flipped just like a preteen girl.
"Oh my goodness. I'm, like, freaking out right now," he told Billboard. "This is unbelievable! No. 26? I'd be happy with 99!"
"Sara," with the help of will.i.am ("mir.i.am"), brought Fallon to the pop charts. But the Billboard success reveals a much bigger truth about Fallon: he's noted for his comedy, but his focus has always been on the music. Over the course of his career, Fallon has slowly pioneered a new model for musical success, one based on virality and creative reinterpretation. And now he's proving that it's a workable strategy for real pop stardom.
His musical knowledge and tastes are vast, and as a result he understands the core reasons people are drawn to certain genres and what reinterpretation will make them go viral. He thrives on his casual duos with superstar Justin Timberlake, his a cappella with otherwise overproduced Miley Cyrus, his stripped down piano jams with dramatic Ariana Grande. Fallon possesses the unique ability to remold our pop stars — whether he's impersonating or playing alongside them — into approachable people to whom fans want to relate. He makes them more human through humor, just by adding simple lyric changes or reimagined versions of our favorite songs that perfectly showcase their identity. And then he watches them go viral.
Here are some of the key moments where Fallon struck pop-comedy gold.
1. His '90s impressions from his 'Saturday Night Live' audition tape.
A young and awkward Fallon crammed over 20 celebrity impressions into this eight-minute audition reel in 1998. He grabs his guitar to close the bit with a handful of music impersonations he would later fully realize on Saturday Night Live: U2, Counting Crows, The Cure, The Wallflowers and Alanis Morissette.
This was only the beginning to a host of impersonations for Fallon on SNL, and his choices are right in line with popular radio hits from the '90s.  
2. "Call Me Maybe" on classroom instruments.
Fallon's series of classroom instrument reinterpretations is the perfect demonstration of his genius. He's done a handful of covers— all accompanied by The Roots and the original artist — and in each he takes a monstrously popular or controversial song and turns it into a tiny, playfully twee jam.
Carly Rae Jepsen's mega-viral "Call Me Maybe" was a perfect first step.
3. "Blurred Lines" on classroom instruments with Robin Thicke.
"Blurred Lines" plagued the airwaves and sparked many a debate, but Fallon gave Thicke (albeit momentarily) the chance to turn a massive controversy into something playful and light.
The sketches always place the featured star front and center — a simple one-shot take that looks just as fun to perform as it sounds. Instead of focusing on what the lyrics mean, or what the original video intended, Fallon keeps the feel-good vibes of "Blurred Lines" simple and whimsical.
4. "Gov. Christie Traffic Jam" ("Born To Run" Parody) with Bruce Springsteen
To address Christie's Bridgegate scandal in New Jersey last year, Fallon dressed up as the governor's favorite artist: Springsteen.
Moments into Fallon-Springsteen's reworking of "Born to Run," the real Springsteen joins him, and the two performed the climax of the song. This sketch is just one of many that prove Fallon's witty song (re)writing abilities — he's able to take a timeless rock hit, fit it to the times and pay homage to the public's fondest memory of a legendary rock star.
5. Broadway versions of rap songs with Grande.
In this slowed-down mash-up of rap songs (including "99 Problems" and "Thrift Shop"), Fallon and Grande rework a classic piano duet set-up, with Grande's voice as the main attraction. It's a calmer, more mature Grande that perfectly illustrates her branding — pop culture with class.
Fallon, who carries most of the goof with his long blond wig, makes sure that Grande is the talent of the sketch while still coming across as bubbly and fun.
And Grande's not alone: A similar sketch featured Anne Hathaway, who also has a raspy cabaret voice.
6. Neil Young impression in "Whip My Hair" with Crosby, Stills and Nash.
Unlikely genres always meld in Fallon's Neil Young impressions, whether he's performing Willow Smith's "Whip My Hair," Iggy Azalea's "Fancy" or the theme song from Fresh Prince. He uses lyrical Young to demonstrate one harsh truth about a lot of modern pop: The lyrics are terrible.
7. "We Can't Stop" with Miley Cyrus and The Roots.
Filmed in a Brady Bunch-esque style 3x3, this a cappella version of "We Can't Stop" is admittedly way better than the original. With Cyrus at the center, it's almost as if she's been completely stripped of all the crazy and instead her vocals come to the forefront. The timing of this video release was perfect, and Fallon helped showcase the best side of her pop persona, the side that was raised in Nashville on classic country and knows how to deliver a stellar vocal performance.
"That was a good time for me to show people I don't just twerk and lick stuff, I can actually sing and I can act too," Cyrus told Fallon on Late Night.
8. "History of Rap" with Timberlake.
The Timberlake-Fallon duo is inseparable — any SNL skit that features them together will show you. But "History of Rap" blows every sketch of theirs out of the water, and showcases effortless rapping talents we weren't sure either of them had.
In "History of Rap, Part 4," the two touch on classics like Sugarhill Gang and 2 Live Crew while also weaving in Missy Elliot and Macklemore. It's Fallon and Timberlake's subtle (and genius) homage of showing where today's rap and R&B found its roots — a seamless mash-up of popular hits that spans decades and further establishes Timberlake as a charismatic performer.
9. Tebowie
"Tim Tebow to Jesus Christ ..."
At the height of Tebow-ing, Fallon had the idea to combine two completely unlikely characters who only mildly share a last name: David Bowie and Tebow. The result? A football pop star we never thought to exist.
"Tebowie" is also a track off Fallon's Don't Blow Your Pants Off, which won him a Grammy for Best Comedy Album in 2013. Though "Ew!" has only recently hit the Billboard charts, Fallon's comedy album of (mostly) musical impersonations proves that he has a huge catalogue of successful characters.
10. "Friday" with Stephen Colbert, The Roots and Taylor Hicks.
Fallon and Colbert's rendition of Rebecca Black's disastrous song is perhaps even more glorious than the original viral video. It also reveals one of Fallon's most brilliant techniques: making pop culture classy and making high culture approachable. Here, Fallon perfectly parodies viral culture by inviting an obscene number of high-profile guests to cover a song that was never intended to be as big as it became.
In everything he does, Fallon can mobilize a huge group around him. It's the sign of a great performer. It's the sign of a true pop star.