9 Songs that Prove Miley Cyrus Is the Best Cover Artist of Our Generation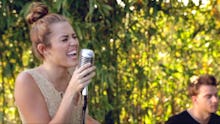 Miley Cyrus may be better known these days for her provocative behavior (search "Miley Cyrus" and "twerk" and marvel at the Internet's power), so sometimes it's hard to remember that she's actually a really talented musician.
Recently, though, covers from the Bangerz tour have been going viral nearly every week. Her versions of classic artists like Dolly Parton, Bob Dylan and others prove not only that Cyrus can actually sing, but also that she knows a good song when she hears it. She was, after all, born in Nashville to a songwriting family, so it makes sense that she can strip a song to its elements and make it new again.
And at the very least she covers songs better than her father:
1. "Jolene" by Dolly Parton
The Backyard Sessions Cyrus organized in 2012 highlighted her cover skills. One of the best was "Jolene," originally sung by Dolly Parton.
Not only was it much more laid-back than the typical Cyrus performance, but the swapping of bass for strings gives the song an earthy, almost bluesy feel that makes it less country and way sexier. Still, it's good to see Cyrus paying homage to her country heritage.
2. "You're Gonna Make Me Lonesome When You Go" by Bob Dylan
For Amnesty International's 50th Anniversary, the NGO released an album of various artists covering Bob Dylan songs. Cyrus covered the Dylan classic, "You're Gonna Make Me Lonesome When You Go" off Blood on the Tracks. She strips down the song to its absolute basics with just vocals and an acoustic guitar, but it pays off: Not only does Cyrus' voice soar on the cover, she also brings out the lyrics' plaintiveness more fully. 
3. "Summertime Sadness" by Lana Del Ray
Again, Cyrus strips down a song to its basics, and, again, it's epic. The vocal harmonies and the more percussive acoustic guitar let the drama and emotion of the song emerge in a way that's a little lost in the heavily-produced Lana Del Ray original.
4. "Lilac Wine" by James Shelton
"Lilac Wine" has been covered by great musicians from Eartha Kitt to Jeff Buckley. Cyrus' version is one of the best, though, because of her intimate vocals and delicate instrumentation.
5. "Every Rose Has Its Thorn" by Poison
Taking the classic, "Every Rose Has Its Thorn" by Poison, Cyrus updates the original's straightforward rock with a country twang and soul backup singers. Instead of a sad power ballad, Cyrus turns the song into an inspirational anthem.
And she shreds pretty hard at the end.
6. "I Love Rock and Roll"/"Cherry Bomb"/"Bad Reputation" by Joan Jett
Cyrus makes these hardcore Joan Jett classics a bit more fun — probably because she can't really touch the power of the original. Still, this is an incredible medley that brings out the songs' sheer joy in being bad.
7. "Look What They've Done to My Song, Ma" by Melanie Safka
Taking the folk classic and making it way more Nashville, Cyrus kicks the tempo way up on this one. 
8. "Landslide" by Fleetwood Mac
The similarities between Miley's voice and Stevie Nicks' are more than a little unnerving: Both have lower-range voices, both perform with just the right low-key tone.
But Cyrus might win this on outfit alone. The sparkles. It's sort of like a younger, hipper version of a Vegas lounge act. 
9. "Hey Ya!" by Outkast
Her most recent cover, the epic "Hey Ya!" proves that she can do any genre — and any song.
Say what you will about her lifestyle or original music, but she sure could hold her own in a tribute round.