A Whole City Told Comcast to Get Lost Over 'Deplorable' Customer Service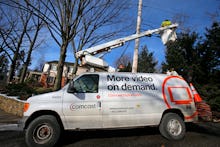 The news. Comcast is so hated that a Massachusetts town is going to great lengths to keep it out.
Officials in Worcester, a 180,000-person town an hour west of Boston, apparently don't want a company known for its abhorrent customer service and bank-account-draining services. Calling the company's customer service practices "deplorable and substandard," Worcester City Council members voted 8-3 this week to ask the city manager not to transfer the town's cable television license from Charter Communications to Comcast, the Worcester Telegram & Gazette reported.
The planned transfer was the result of a proposed merger between Time Warner Cable and Comcast. The latter agreed to give Charter 1.6 million customers as an attempt to ease regulatory concerns and not to make the new combined company look like a monopoly. Unfortunately for Worcester residents, they're affected by this move.
According to the Telegram, the council members made their decisions based on public complaints about the company's "substandard" customer-service record and inability to function like a decent company.
Councilor Gary Rosen lashed out at the "terrible" company: "In my opinion, they should not be welcome in this city," he said. "Comcast is a wolf in wolf's clothing; it's that bad. They are awful, no doubt about it. Maybe we can't stop it, but that doesn't mean we shouldn't speak out." 
Now what? Comcast didn't shed too many tears from the brutal feedback. The company agreed yesterday to a two-week extension on its application. 
"I have been engaged in fruitful conversations with Comcast regarding these issues, including the vital matters of jobs and consumer protection," the city manager, Edward M. Augustus Jr., said in a statement.
Ultimately, it's up to Augustus Jr. if he wants to place the city under control of a notoriously uncaring cable company, since he makes the final decision. The city council's vote is purely symbolic and a way to wave their arms around while warning about their dire future. 
Councilor-at-Large Frederick C. Rushton said the resolution sounds like a way to take down Comcast, but federal laws are in favor of big corporations and not the customers.
"We can make it sound like we are taking on the big boys, but in reality this will go nowhere," he said. "People want better service, but I'm not sure the council floor is the way to get better service. We are just bit players in a big play. It may feel good to vote this, but it may very well end up having no effect." 
Despite this, Councilor-at-Large Konstantina B. Lukes hopes the local story is garnering enough national attention to draw the Federal Communications Commission's eye. 
"This is not a paper vote; this is not an empty vote," she said. "This is a very clear vote that we are not going to tolerate the kind of responses we got from Charter and Comcast."