People Are Furious Over Family Feud's Absurdly Sexist Category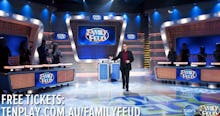 If it were up to Family Feud, the only work suitable for a woman would be cooking and cleaning. 
The Australian version of the game show has some explaining to do after using a sexist category to quiz users on jobs women do. 
The episode, which aired Wednesday, included answers such as "being a receptionist, washing clothes, nursing and cooking." It sounds like they were taking cues from a recent episode of Jeopardy! that asked "What Women Want." 
Men weren't left out either, as Jezebel points out. When families were asked to name a man's job, possibilities included "fixing things, plumber, mechanic, carpenter and being a tradesman." It's obviously totally out of the realm of possibility for the 100 Australians polled that women are capable of those things too.
After the show aired, furious viewers voiced their anger on social media. Some wondered why this question was used in the first place, or at least wasn't reworded to something, you know, less sexist.
Host Grant Denyer passed on the blame to the people who were asked the questions:
Network Ten didn't echo his sentiment and issued an apology, saying the "questions were ill-advised and should not have been included in the show. The survey results are determined by 100 people and we understand they are not reflective of all Australians."
Sounds like some Australians need a reality check.