Leonardo DiCaprio Just Gave Us One More Reason to Love Him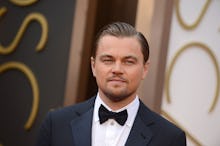 Leonardo DiCaprio's wallet — and heart — is as deep as the ocean.
On Thursday, the Wolf of Wall Street star announced he would to donate another $2 million to Oceans 5, an international organization dedicated to ending illegal fishing and preserving the world's oceans. The announcement came months after DiCaprio said he was donating $7 million to several ocean conservation conversation projects. 
"The sad truth is that less than 2% of our oceans are fully protected," DiCaprio said Thursday. "We need to change that now. My foundation supports Oceans 5 projects that are directly improving ocean health by stopping overfishing and creating marine reserves."
He lauded Oceans 5 as "an exciting new platform for marine conservation." According to Variety, DiCaprio's donation will fund five projects:
A new coalition of four conservation groups, working to strengthen controls on illegal fishing in the European Union, the world's largest seafood marketA local organization in the Republic of Kiribati, working to implement the world's fourth largest marine reserve, located in the Central PacificA coalition of three organizations working to improve fisheries enforcement in Costa Rica, Panama, Colombia and Ecuador, including construction of a radar facility on Cocos IslandA group of Cook Islanders working to create a marine park within a territory that is three times the size of CaliforniaSeveral organizations working to create Arctic marine reserves in Canada, Greenland and Russia
As Mic writer David Levesley noted this summer, DiCaprio's donation habit for aquatic endeavors casts a wide net. Earlier this year, he gave a $3 million grant to the international ocean conservation organization Oceana through his foundation, which has also donated $1 million to an elephant crisis fund and $3 million to the World Wildlife Fund to help protect tigers. 
Oh Leo, you're just impossible to hate.