The Most Important Thing to Come Out of Apple's Product Announcement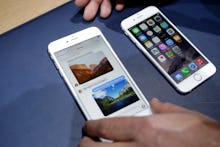 On Thursday, Apple announced a bunch of fancy new tablets and computers that you probably won't be buying anytime soon. There's a new iPad 2 Air that's 18% thinner and 40% faster compared to its predecessor? Granted, that does sounds like an "engineering feat," as the New York Times proclaims. But for the average iPhone user, the real technological breakthrough is that your camera roll is coming back.
CEO Tim Cook announced that it's fixing the feature in iOS 8 that eliminated the Camera Roll in its Photos app. In its place was a clunky "Recently Added" section that separated photos by date, instead of the easier-to-use roll function that collected photos in one stream.
That new feature also affected apps like Facebook and Twitter, which could no longer pull pictures from the album. "Those apps will show the Recently Added album as though it were the Camera Roll, so the only way to share older photos is to create a new album and manually move the shots over," wrote iMore, an Apple fan blog. 
A vocal contingent of Apple fanboys found the the new design annoying. "The Photos app changes are SO ridiculous and out of left field that I can't find any way to justify it," wrote one commenter on MacRumors. "This is truly aggravating and I hope Apple fixes it, for the sake of our sanity," wrote another.
Users are thrilled, for the most part. "This is one of the best fixes for iOS 8! I was not expecting Apple to revert back to the Camera Roll, so this is a welcome surprise," wrote one fan on a MacRumors message board. "They must've received a lot of complaints or support calls from confused users."
Worry no more, enraged Internet commenters. The Camera Roll returns on Monday when iOS 8.1 is released.