Rome's Mayor Just Sent a Powerful Message to the Italian Government on Same-Sex Marriage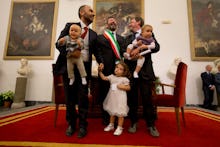 The news: Gay marriage is illegal in Italy. But in one public show of support on Saturday, Rome's mayor registered 16 gay marriages that were officiated abroad within walking distance of the Vatican in defiance of the country's Interior Ministry.
The City Hall's reception room was filled with couples and their friends and family, who gathered to have their marriages recognized in Rome's city ledger. Rome's Mayor Ignazio Marino received "thunderous applause" as he arrived in the hall, the Associated Press reports. 
"We have a lot of work to do to make sure everyone's rights are recognized," Marino told the AP before writing the first 16 marriages onto official records.
"It's important — a limited recognition, but it's something," Fabrizio Maffeo, a computer specialist from Rome who married Jonathan Dominic Spada in Boston last year, said of their registration.
Background: Gay marriage is a topic of contention in a country where the Church has powerful influence over daily life and politics, dividing the government of Prime Minister Matteo Renzi. Both male and female same-sex sexual activities are legal in Italy, but same-sex couples are not eligible for the same legal protections available to opposite-sex couples.
The softening stance of the Vatican may change that. Last week, Pope Francis took a major step toward supporting gay marriage with the publishing of "Relatio Post Disceptionem," a discussion within the synod between the pope and 200 Catholic clergy. In a section entitled "Providing for homosexual persons," the priority was to redefine the Church's archaic notion of the family and to bring conservative theological doctrine into the contemporary realm:
"Homosexuals have gifts and qualities to offer to the Christian community. Are we capable of providing for these people, guaranteeing them a place of fellowship in our communities? Oftentimes, they want to encounter a Church which offers them a welcoming home. Are our communities capable of this, accepting and valuing their sexual orientation, without compromising Catholic doctrine on the family and matrimony?"
The two-week synod was "a huge achievement in itself," Christopher Lamb from British Catholic journal The Tablet told the BBC. "We have now got an acceptance that we need a new language in the Church when talking about gay couples and homosexuality in general."
Though the synod was a major step toward greater openness to homosexual people, it has also revealed a deep fracture in the Vatican ranks. Cardinal Raymond Burke, a senior cardinal and noted critic of Pope Francis' relatively liberal stance on homosexuality told BuzzFeed on Friday that he would be demoted from his post of running the Catholic Church's justice system. Burke was one of the most publicly critical bishops on the topic.
Why it matters: The mayor's high-profile show of support today for marriage equality reflects the nation's changing stance toward gay rights. Last year, a poll showed more than 85% of Italians backed "civil unions" that would give same-sex partners more rights. The next step, Rome's Mayor Marino said, is for Italy to change its law to allow gay marriage and gay adoption.