Serena Williams Slams Russian Tennis Official Over Bullying and Sexist Remarks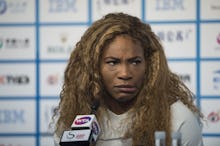 The news. You don't want to mess with Serena Williams — on or off the court.
The world's top female player served up a powerful slam against Shamil Tarpischev, president of the Russian Tennis Federation, for calling her and her sister Venus the "Williams brothers" on a Russian talk show. He also said the duo were "scary" to look at.
Of course, the Williams sisters didn't take these comments too kindly.
"I thought they were very insensitive and extremely sexist, as well as racist at the same time," Serena Williams said in Singapore, where she's competing in the WTA Finals. "I thought they were in a way bullying. I've done the best that I can do, and that's all I can say. So I just wasn't very happy with his comments."
Neither was the Women's Tennis Association, which banned Tarpischev for a year and levied a $25,000 fine, the maximum allowed under the WTA, against him. Tarpischev, who leads Russia's Davis and Fed Cup teams, is also a member of the International Olympic Committee, which is also mulling whether to impose a punishment of its own. 
It was just a joke, he swears. Tarpischev held firm on his hilarious wisecrack. He said his comments were just a joke on a "humorous show" and were being blown out of proportion, the Guardian reported.
"I did not want to cause any offense or make fun of any of the sportsmen," he said. "I am sorry that the joke I made, when translated into English, was taken out of the context of a chat show and so much attention has been brought towards it."
As for the WTA's ban, he said: "I can't comment. I don't understand it."
Other tennis organizations also lashed out his remarks. The United States Tennis Association (USTA) called it "reprehensible," and top-rated and fellow Russian Maria Sharapova said they were "very disrespectful and uncalled for." 
"It was very inappropriate, especially in his position and all the responsibilities that he has not just in sport, but being part of the Olympic committee," she said. "It was just really irresponsible on his side."
Why it matters. Williams got to the heart of Tarpischev's idiotic comments when she said: "But the WTA and the USTA did a wonderful job of making sure that — in this day of age, 2014 for someone with his power, it's really unacceptable to make such bullying remarks."
And compared to the NFL's lousy response to recent controversies involving women, the WTA and USTA should be lauded for acting swiftly against the sexist comments. They are not only bullying, but immature and disrespectful to women who, according to Tarpischev, should be acting a certain way.
Let her record, not her looks, speak for itself.