Here's Another Example Why NFL Is Terrible To Women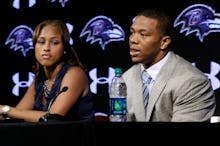 The news: With the string of domestic abuse controversies that have rocked the NFL in the past few months, the league has a bad track record in dealing with these type of allegations. Now, a stunning report from the Washington Post details how bad it actually is.
The newspaper spoke with two NFL wives who endured years of abusive relationships: Dewan Smith-Williams and another who didn't want her identity revealed because her ex-husband is still in the league. Instead of the league acting like a safe haven where the women could come for help, it allegedly brushed their reports under the rug. 
Both women recounted frightening details of what great lengths the cops, league officials and coaches would go to avoid tarnishing the players' or league's image. Perhaps most disturbingly, despite that the stories happened years ago, the women say the NFL isn't doing anything to stop the domestic abuse problem epidemic. 
The scary details: For Smith-Williams, looking at Janay Rice (former Baltimore running back Ray Rice's wife who he knocked out in an Atlantic City casino elevator in February), is a constant reminder of "the denial, the secrecy, the sense of isolation, the shame" of being the focal point of an abusive relationship. 
Smith-Williams' is married to former New Orleans Saints player Wally Williams, although they now live separately. She said she was pressured to keep quiet about her domestic violence incidents that included being repeatedly punched, grabbed and held by the throat. (Wally denied the allegations.)
"During that time, the NFL was a constant presence in their lives, and she received clear messages from the head coach not to air the league's dirty laundry — even to the cops," the Post reports. 
The league's tendency to push things under the rug came to a blow in 2001, she said, when cops found marijuana in the couple's home. Then-Saints coach Jim Haslett, who lived nearby, heard the news and told them to call him first before talking to anyone else. 
Haslett told Smith-Williams "Don't talk to the media. Don't talk to the police. We will handle it." That apparently was the mantra no matter what dangerous situation she found herself in. The Post writes:
The next year, during his final season, Williams tested positive for marijuana use and received a four-game suspension. So when Smith-Williams found marijuana in their Baltimore home, she confronted her husband about it. He stormed through their Baltimore house with a baseball bat, hitting doors, chairs and pictures while threatening her, she says. But after Coach Haslett's warning the previous year, she chose not to call the cops. Instead, she rang the NFLPA rep assigned to Williams's case. He told her to stay safe and to let Williams leave the house. He said that someone would call her back. That call never came. Smith-Williams wasn't entirely surprised — the league rarely returned calls from her or other wives, they had told her. So she didn't bother calling again.
Saints, the players union or Haslett did not return the Post's multiple requests for comment.
Smith-Williams isn't alone. On the outside, leaving an abusive relationship should be a no-brainer. But for NFL wives, there's a few reasons why it's difficult to leave. First, there's the financial security that those huge paychecks bring in for her and her kids, she said. Another reason is the culture of secrecy and silence the league breed that makes all but encourages women not to speak out and get the help they need.
"[Smith-Williams] and another former NFL wife describe an insular and intensely secretive organization, where loyalty extends only in one direction – everyone protects the NFL brand, but the NFL protects its own interests over everything else," the Post writes. 
The other women the Post spoke to is also a former wife of another New Orleans Saint player. She experienced a similar string of violent incidents from her ex-husband just like Smith-Williams did. 
After the team won its first game of the season in the 1990s, she told her husband she wanted to go home. Instead of being civil about it, she said he grabbed her arm and dragged her to their car and beat her up. Another teammate told two police officers nearby not to intervene. The violence didn't end there, she recalled:
He pushed me to the top of the stairs and shoved me over to the bed. When I stood up, he punched me, and the next thing I remember is coming to on the floor. I remember pulling my legs up to the fetal position to protect myself from his kick after kick. I was vomiting and gasping for air and remember screaming, 'You are going to kill me!'
When the police arrived to their home, the officers didn't arrest him. Instead, they disturbingly "chatted and laughed with him about his successful game" and another officer asked for an autograph for his kids. She said her husband made her clean the blood off her face to show the police that nothing happened. To her knowledge, the police never filed a report.
And, again, both the NFL and Saints didn't comment.
Why it matters. From Smith-Williams to Rice, plus the countless others who are too scared to speak up, the NFL has a troubling track record of doing the right thing for women in that it's nonexistent. 
Smith-Williams says the NFL Players Association (NFLPA) is basically useless when it comes to defending them. "They would say, 'Oh, we're really sorry that you are going through this. We'll look into it.' But you never heard back. There's no one available for the wives," she said. 
Another qualm she has is that there are no programs centering around domestic abuse and that the league isn't offering enough psychological help to players who exhibit abuse. It's a problem that other players' wives echoes, too:
Token suspensions and resignations do nothing to solve the problem and may even worsen it, because players who are abusive, including their own husbands in the past, use the threat of punishment to keep their partners quiet, the wives say.
So, is there way put an end to the NFL's domestic abuse problem? The women of the ex-Saints player from earlier said they must "rehabilitate instead of punish." She said: "They use [the NFL's current policies] as leverage against you. There's abuse on every team. Everybody knows, but you know not to tell."
She added that something needs to be done before it's too late. "You will hear of a wife murdered before you hear another one come forward." 
If the NFL continues this way, that's sadly a real possibility.