Oscar de la Renta's Most Important Legacy Isn't His Clothes — It's His Respect for Women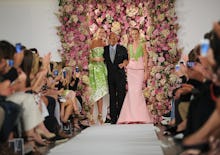 "He is the man every woman wants to hug!" Amal Alamuddin once said of fashion designer Oscar de la Renta, who passed away Monday at the age of 82. An esteemed icon of the fashion industry for over 50 years, de la Renta was so adored by women precisely because he loved them — and respected them — back.
As fashion insiders took to Twitter and the press on Monday to express their condolences over his death, one word resounded: "gentleman." John Koblin of the New York Times quoted Tommy Hilfiger, who recently said of Oscar, "He was a true gentlemen of American fashion. We all looked up to him." Marie Claire Australia editor Jackie Frank called him "an absolute gentleman." CNN's Alina Cho said, "He was a true, true gentleman, in the truest sense of the word — a real bright light."
The Dominican Republic-born designer's reputation as a gentleman didn't come just from his penchant for gray suits and his friendly demeanor. It was his treatment of and respect for women, both their physical bodies and their inner strength, that earned him women's devotion. 
De la Renta started working in 1957, under the tutelage of Cristóbal Balenciaga, back when a woman's wardrobe consisted of dresses, skirts and more dresses. Second-wave feminism hadn't taken hold yet, much less swept through the fashion world in a wave of le smoking pantsuits and topless bathing suits.
"When I first came to New York, a woman wearing pants would not be allowed into a restaurant. And a lot of the time, especially in my case, doing pricey clothes, the husband was paying for them," de la Renta recalled in a 2013 interview with Gotham magazine. As he put it to the Washington Post, "my typical customer got dressed in a suit and had lunch with friends."
When change quickly came, instead of digging in his heels and sticking with a nostalgic, ultra-feminine vision of fashion, de le Renta let the women he worked with lead. He remained, until his death, both in awe of and proud of his modern, fast-moving, independent female customer.
"She is someone who will choose the red dress over the pink, even if her husband prefers the pink," the designer told Elle in 2013. "Today, women have the power to make their own decisions," he reiterated to Gotham, "She doesn't really care so much about whose dress she will wear; she cares about how she identifies with that dress, how that dress represents [how] she feels on a particular day." 
And that deep understanding of and respect for women was reflected in his designs. Unlike some male fashion designers who love nothing more than to embellish, shackle and encase female bodies, de la Renta always put the woman first, once musing, "It's only fashion when a woman puts it on." His clothes, particularly the red carpet gowns he was famous for, were impossibly flattering and always highlighted the wearer rather than adorning or overpowering her.
It's no coincidence some of the most powerful women in the world, from Jacqueline Kennedy Onassis to Hillary Clinton, were devoted fans. "What I will miss so much about Oscar is that confidence he gave me," Laura Bush told the Washington Post. "He had a wonderful talent — for being able to see what looks best on women, what shapes make women look their best and what colors are the most flattering."
After all, as de la Renta told The Cut in 2013, women are the ones in the driver's seat. "It's unbelievably extraordinary to remember that when I came to New York, it was a time when women couldn't wear a pair of pants to a restaurant. What women have achieved in the last 50 years, I wish men would have achieved in the last 100. I'm sorry to say it, but we're really stupid."
Not all of them, Oscar. We'd bet a wardrobe's worth of de la Renta creations that at least one man is earning the collective respect and honor of legions of women at this very moment, as they mourn a man who always loved them back.