Cappuccino-Flavored Potato Chips Were a Terrible, Terrible Idea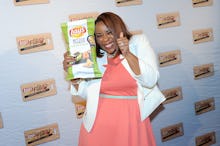 The news: Lay's cappuccino-flavored chips left a bitter taste in America's mouth.
The results are in from the potato-chip maker's three-month "Do Us a Flavor" contest that asked people what new flavor Lay's should troll, err, introduce to the sodium-saturated American public. 
With more than 1 million votes cast, Wasabi Ginger won, with Mango Salsa and Cheddar Bacon Mac & Cheese named the other two finalists. The disgusting cappuccino chips weren't all that and a bag of chips to voters, as they were labeled as "gross" and "nasty" on Lay's Facebook page. The company didn't say how many votes each flavor garnered.
Wasabi Ginger was the brainchild of New Jersey nurse Meneko Spigner McBeth, who said the inspiration came from her Japanese grandmother and her penchant to add wasabi to her cooking. She will either get $1 million or 1% of the chip's yearly sales revenue, depending on which figure is larger, the company said. 
Why did this happen? Lay's Chief Marketing Officer Ram Krishnan said Americans demanded more exotic and ethnic tastes. After all, there are only so many sour cream and onion chips someone can eat in a lifetime. He said the Wasabi Ginger winner was a reflection of America's shift toward eating food with diverse flavors. 
"We're kind of getting into a new flavor territory," he told the Associated Press. "When I went to school, Mexican food was exotic." 
That's not exotic. This is especially true when you consider what type of flavors Frito-Lay sells around the world. The contest started in 14 countries before arriving here — and the flavors are even more profane. 
In Egypt, voters chose Shrimp, Pickled Cucumber won in Serbia and there's a Caesar salad-flavored chip in Australia. And in Canada, home of the delicious ketchup-flavored chips, a Calgary man won $50,000 for a flavor called Jalapeño Mac & Cheese. 
Someone, pass us the Tums-flavored chips.