Kelly Clarkson's Cover of Sam Smith Is Exactly Why She's a Pop Star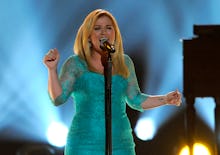 If Kelly Clarkson were still competing on American Idol, this cover of Sam Smith's ubiquitous hit "Stay With Me" would have made her win all over again.
"[I'm going to cover] one of those singer's songs, and it's bluesy and it's awesome," Clarkson told a crowd on Sunday in Charlotte, North Carolina. "I love this song, and I know you've probably heard it a bunch, but bear with me," she said before launching into a countrified version of the bluesy song. And just like that, she's back.
This marks the first stop in Clarkson's comeback tour since taking a breather in June to give birth to her daughter, River Rose. The comeback will continue in December when she hosts a Christmas-themed benefit concert in Nashville, and in January, when she releases a new sure-to-be hit single with a "mystery male artist." 
This cover is a good start for Clarkson: It's both a testament to Smith's talent — the reason his debut album is burning a hole in charts across the world — and a reminder of why Kelly Clarkson is a stellar pop star in her own right. Both performers are incredible vocalists, and, like Clarkson, Smith has a propensity to make the Internet crazy with his covers. A few months ago, Smith blew his fans away with his cover of the Whitney Houston song "How Will I Know." Then there's the time he covered Beyonce's "Flawless" in a karaoke bar, and lived up to the song's namesake. 
But Smith has years before he reaches Clarkson's chart-topping dominance, and Clarkson has a way to go before she reaches Smith's relevance again. With a voice like hers, she doesn't have anything to worry about.