This Comedian Has a Brilliant Alternative to the Redskins Logo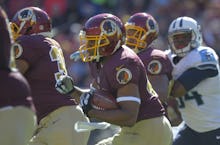 The news: The Washington Redskins brand has been steeped in controversy for years over their name and logo, so what's a better turnaround plan than a rebrand? 
For most of the NFL team's 77-year existence, its logo has been some form of a Native American warrior. More recently, the team logo has faced criticism for its representation of Native Americans. Despite this,  Washington owner Dan Snyder refuses to change the logo.
That's where comedian Hari Kondabolu comes in. Kondabolu is collecting alternative "redskins"  on his Tumblr — variations of a very sunburned white person. 
"I thought it would be interesting to put the joke on white people," he told BuzzFeed. "How absurd would it be if the racial group being caricatured this time was a white person?"
Kondabolu explained this theory further in a video. 
"When is pointing out the color of someone's skin a way to honor them?" he asked. "Especially when it's not the color of their actual skin?" 
And what about the fans' defense that the name and logo shouldn't be changed because it's part of their tradition? 
"The Redskins tradition is only 81 years old," Kondabolu said. "That's like one grandparent. One racist grandparent."
It's going to take more than a funny video to see change. But it's a start. According to a Washington Post poll, 83% of fans don't think the logo and name should change. On the flip side, 14% think it should and support for a rebrand is slowly shifting in the right direction. That's up 3% since 2011 and more than double since 1992.
Seems like tradition is slowly going out the window, which is in line with what Kondabolu thinks. 
"You see, it doesn't matter old your tradition is," he said in the video. "If enough people tell you that it's hurting them, maybe you should reevaluate your choices."