'2001: A Space Odyssey' Has a Gorgeous New Trailer to Celebrate Its Re-Release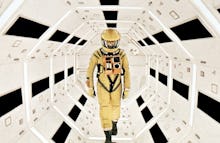 The remastered trailer for 2001: A Space Odyssey makes the nearly 50-year-old movie look brand new.
Ahead of the its limited re-release in the United Kingdom late next month, the British Film Institute digitally remastered scenes from Stanley Kubrick's classic space opera and created its own unique trailer to get fans excited. 
The two-minute clip has HAL 9000 as its focal point, accompanied by the signature music that made the 1968 film a massive hit. Take a look for yourself below:
In a statement to the Hollywood Reporter, original executive producer Jan Harlan said it's the "best trailer for this film I have ever seen!" So if he's on board, so are we.
2001: Space Odyssey is the centerpiece of the the British Film Institute's three-month long event, "Sci-Fi: Days of Fears and Wonder." Other spooky films like A Clockwork Orange and Barbarella are being shown. If you want to see 2001: Space Odyssey, it's playing in several theaters around the U.K., but only for six weeks.
We'll see you in London.