Renee Zellweger Had the Perfect Response to Her Plastic Surgery Critics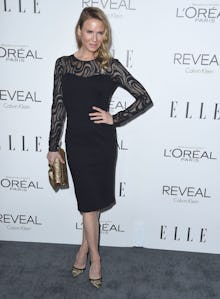 The news: Say what you want to say about Renee Zellweger's face, but she wants you to know that she's perfectly happy — so thanks for the concern.
The Bridget Jones' Diary actress stepped out Monday at Elle magazine's "Women in Hollywood" event, and there was something slightly different about her face — and the Internet took notice, as she was called "unrecognizable" or the victim of someone who had her face swapped with another woman, amongst others. 
Zellweger, 45, released a statement to People, calling the criticism "silly." 
"I'm glad folks think I look different," the statement said. "I'm living a different, happy, more fulfilling life, and I'm thrilled that perhaps it shows."
Curiously, she didn't acknowledge she got plastic surgery, as it's widely believed. Something happened in her eye area as her signature eyes became less clenched, and it looks like there were some Botox-like injections in her forehead area. 
Zellweger said she addressed the comments because "it seems the folks who come digging around for some nefarious truth which doesn't exist won't get off my porch until I answer the door." 
She added that her look is the result of living her best life:
"My friends say that I look peaceful. I am healthy. For a long time I wasn't doing such a good job with that. I took on a schedule that is not realistically sustainable and didn't allow for taking care of myself. Rather than stopping to recalibrate, I kept running until I was depleted and made bad choices about how to conceal the exhaustion. I was aware of the chaos and finally chose different things."
Good for her. It's her body, so she's free to do what she wants with it. As with many aging Hollywood actresses, she has to deal with the cultural expectations that women aren't allowed to age, and if they do something about it, they're majorly criticized and mocked about it. 
"The performative surprise, disgust and shame directed toward aging is super contradictory: It suggests that the ideal woman is young and without wrinkles but attempts by women to maintain that ideal are subject to derision," BuzzFeed's Anne Helen Petersen wrote.
We shouldn't plastic-surgery shame, she argued because it's "tantamount to blaming the victims of this ideal for working so hard to achieve what we've told them, for decades, they must do." 
That's something that Zellweger probably agrees with. 
"People don't know me [as] healthy for a while," the actress told People. "Perhaps I look different. Who doesn't as they get older?! Ha. But I am different. I'm happy."