This Candidate Kept a Huge Secret Until Weeks Before the Election — For the Best Reason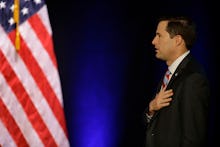 It's hard to believe any politician running on the promise he can change the way Congress works. It's even harder when you learn he's been keeping a big secret about his past from the electorate.
But Seth Moulton, a young Democratic candidate from Massachusetts' 6th District, has a different kind of secret: He's a twice-decorated war hero.
His reasons for not disclosing the honors are as noble as the service for which he earned them. As the Boston Globe reported in a fantastic profile, Moulton "is uncomfortable calling attention to his own awards out of respect to 'many others who did heroic things and received no awards at all.'"
"If the veterans of our 21st century wars are looking for their own JFK, be that John F. Kennedy or John Forbes Kerry, I think they've found him."
The 35-year-old has run a nearly perfect campaign that's now attracting national media attention. In the Democratic primary, he ousted scandal-ridden incumbent Rep. John Tierney, and he's holding on to a slim lead over Republican Richard Tisei as the general election nears.
But even facing an extraordinarily tight race with just a few weeks to go, Moulton chose not to disclose details of his war commendations, which were earned for truly heroic actions. He led a platoon and placed himself in great danger during some of the fiercest fighting early in the Iraq War. He earned two medals for valor, neither of which he mentioned during the campaign. It took an investigative journalist to uncover them.
Taking the high road: On his campaign website, Moulton's service is mentioned briefly: "Seth served four tours in Iraq over five years. While he didn't agree with the war, and had no idea it would occur when he joined, he served with honor, as he never wanted someone else to go in his place."
Famed Boston Globe investigative journalist Walter Robinson, a Vietnam vet himself, had kept an eye on the race. At first, he had a rotten feeling about Moulton. So Robinson called up the campaign.
"You get a call from Walter ... well, you don't want to get a call from Walter," Moulton spokesman Scott Ferson told Mic.
"Moulton treated his service in Iraq very obliquely in his campaign," Esquire's Charles Pierce writes. "Because he had run down so many people who'd phonied up their war records, Robinson got intrigued, so he went to work combing through Moulton's service record."
When he found the papers, he was dumbstruck.
A heroic record: "The American political graveyard has more than a few monuments to politicians and public officials who embellished details of their military service," Robinson wrote in his remarkable profile of Moulton in this weekend's Boston Globe. "And then, uniquely, there is Seth W. Moulton, the Democratic nominee for Congress in the 6th Congressional District, a former Marine who saw fierce combat for months and months in Iraq. But Moulton chose not to publicly disclose that he was twice decorated for heroism until pressed by the Globe."
This is incredibly rare. Politicians regularly stretch their war records to enchant voters with their heroism. The Democratic senator from neighboring Connecticut, Richard Blumenthal, infamously claimed he had served "in Vietnam," while in truth he received five deferments and never set foot in the country. Many others have done the same.
But not Moulton. Here's what Robinson found:
In 2003 and 2004, during weeks-long battles with Iraqi insurgents, then-Lt. Moulton "fearlessly exposed himself to enemy fire" while leading his platoon during pitched battles for control of Nasiriyah and Najaf south of Baghdad, according to citations for the medals that the Globe requested from the campaign.
In fact, Robinson reports, Moulton's decorations were not only kept secret from the public, they were also news to his own parents, who were first informed of the details of their son's remarkable valor this past week. Ferson told Mic that Moulton's campaign manager, also a former Marine, was the only one who knew about the candidate's citations for valor.
"He doesn't like hearing people tell war stories," Ferson said. Since the Boston Globe story ran, the campaign has received dozens of calls from other veterans, from World War II to Vietnam and Iraq, saying they understood his decision to keep details of his service under wraps.
In Esquire, Charlie Pierce does the talking for him. "If the veterans of our 21st century wars are looking for their own JFK, be that John F. Kennedy or John Forbes Kerry," he writes, "I think they've found him."