The Media Gushed Over Mark Zuckerberg's Chinese — Here's What He Actually Said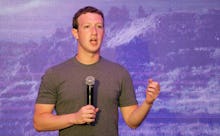 The news: Mark Zuckerberg surprised a crowd of students Wednesday in Beijing with his ability to speak Mandarin.
The Facebook founder and CEO opened up a question-and-answer session at the elite Tsinghua University by shyly saying, "Hello, everyone" in Chinese before moving through the rest of his spiel by bouncing between English and Mandarin.
No group of people, except perhaps the people in attendance, were more impressed by the 30-year-old's ability to speak conversational Chinese than the media. It's a notable feat considering it's one of the most difficult languages to learn and speak.
Several news outlets, however, didn't seem interested in the fact that the creator of the world's most popular website was the language in a country where the site is actually banned. Foreign Policy criticized Zuckerberg's language skills for being "terrible" and compared it a "7-year-old with a mouth full of marbles." Mashable headlined its piece "Of Course Mark Zuckerberg Speaks Fluent Mandarin," even though the man himself admitted he didn't.
Quartz criticized even more by providing a thorough critique of events: "He showed a plucky disregard for the tones that Mandarin has — one tonal slip-up had him saying that Facebook boasts 11 mobile users instead of 1 billion — and his enunciation was roughly on par with the clarity possible when someone's stepping on your face," scoffed Gwynn Guilford and Nikhil Sonnad.
So, what did he actually say? The novelty of a CEO speaking a language other than English aside, Zuckerberg's speech in China is actually kind of a big deal. 
He's been fighting since 2009 to get the social networking site unblocked in a country with a notoriously strict Internet censorship regime, where Western websites are often blocked. To have Zuckerberg personally make inroads for Facebook represents a symbolic message to China that yes, Facebook is coming.
After all, Zuckerberg is a big proponent of bringing the Internet everywhere, hence the Internet.org initiative that hopes to blanket the Earth with it. Quartz roughly translated what he said:
"The majority of people who don't have Internet, don't have the internet because they don't know why they want to use the Internet. If you asked me — sorry, if I asked you — if you didn't have a phone, computer or Internet and I asked you, 'Do you want to use Internet?' You maybe would ask me, 'Why do I want Internet?' So a lot of problems. But ... Internet creates work opportunities and economic development."
A student asked Zuckerberg about Facebook's plan for China, and he pushed back, saying that the website is already in China — sort of. 
"We help Chinese companies grow their customers abroad," Zuckerberg said. "They use Facebook ads to find more customers. For example, Lenovo used Facebook ads to sell its new phone. In China I also see economic growth. We admire it."
As he should. 
"Zuckerberg deserves a lot of credit for laying his pride on the line," Marketplace's Rob Schmitz wrote. "In the world of business, if you're going to stand any chance with the Chinese, you have to show that you're willing to invest in Chinese culture and Chinese language."
As for his foreign language skills, Zuckerberg said he wanted to learn Mandarin because studying it helps educate himself about the culture; his wife, Priscilla, is Chinese. 
"So I'm trying to learn the language," he said. "Also, I like a challenge."