Three Brilliant Innovators Aaron Sorkin Should Document Other Than Steve Jobs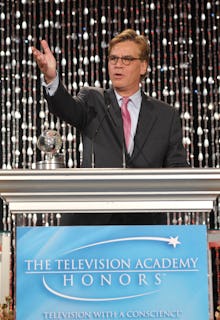 The news: There's soon going to yet be another movie about Steve Jobs.
Walk-and-talk creator and writer Aaron Sorkin is in the midst of producing a biopic about the tech titan. Sorkin confirmed Thursday that Ashton Kutcher will not reprise his critically reviled role as the Apple co-founder from 2013's Jobs. Instead, it'll be actor Christian Bale donning a sneer and black turtleneck as the consumer tech icon.
"We needed the best actor on the board in a certain age range and that's Chris Bale," Sorkin explained to Bloomberg Television. "He has more words to say in this movie than most people have in three movies combined. There isn't a scene or a frame that he's not in. So it's an extremely difficult part and he is gonna crush it."
Sorkin's take is based off the 2011 biography penned by Walter Isaacson. But despite the different source material between Sorkin's new movie and 2013's Jobs, there's one question: Why? After all, do we really need another movie about Jobs, who, despite his revolutionary contributions to making shiny gadgets for millions of Americans, was a well-documented jerk to his employees and friends? Perhaps the reason Jobs only grossed $16 million was because there isn't that much interest in watching an egotist and misanthrope parade around on screen for two hours.
Sorkin's already done a tremendous job profiling a modern tech titan in The Social Network, so why not produce a documentary about another, underappreciated innovator?  They aren't as recognizable as Jobs, but we have a few suggestions for Sorkin to profile.
Ada Lovelace
For anyone who cares about gender diversity in technology, Ada Lovelace is a hero. Lovelace, the English mathematician and writer (who was also a countess!), is credited with writing the "the first computer algorithm — a century before the first electronic computer was up and running" all the way back in 1842.
When Lovelace was 17, she met famous inventor and engineer Charles Babbage. She gained fame for adding several pages worth of notes to one of his articles that described how to make codes on his analytical machine. Lovelace also, as Biography explained, "theorized a method for the engine to repeat a series of instructions, a process known as looping that computer programs use today," which made her the world's first computer programmer.
The theories Lovelace developed not only transformed the world of computing nearly a century after her death, but also contributed to the very groundwork that allowed Steve Jobs to make shiny little music boxes. And according to the book Bride of Science, Lovelace was also steeped in personal and romantic drama, both in rumors of an affair with a man who was not her husband and a major gambling fixation, both of which can make for a compelling human element in her story. Besides, Lovelace is product of the mid-1800s. Who doesn't love a good period piece?
Alan Turing
An expert in the realm of quantum mechanics, Alan Turing "developed the proof which states that automatic computation cannot solve all mathematical problems," the BBC wrote. The British man's most well-known creation was the Turing machine, a computer-like device that punctures a piece of tape depending on its commands.
Turing's other ground-breaking contribution to technology was creating the bombe, a code-breaking machine that decoded messages from German radio transmissions. It "yielded intelligence in a quantity unprecedented in military history" and is credited with helping the allies win WWII.
Although he was praised as a pioneer in computing and helped win the war, Turing was arrested and tried for being gay in 1952 and considered a "security risk as they were open to blackmail" because of his sexuality. He later committed suicide out of shame and pressure.
While we're sitting around waiting for Sorkin to wake up to Turing's amazing story, at least the great Benedict Cumberbatch is playing Turing in the upcoming biopic The Imitation Game.
Martine Rothblatt
The highest-paid female executive in America was assigned male at birth. The subject of a glossy New York magazine profile in September, Martine Rothblatt is the head of United Therapeutics, a $6 billion biotech firm, and credited with inventing satellite radio.
Rothblatt began her transition in the early 1990s. "I can't claim that what I have achieved is equivalent to what a woman has achieved. For the first half of my life, I was male," she told the magazine. She remains married to her wife and is also an author. Her book, Virtually Human: The Promise and Peril of Digital Immortality, examines what the future is going to look like when it's inundated with artificial intelligence.
Enjoy your box office bomb, Sorkin. Don't say we didn't try to help you when you were looking for people who are truly blockbusters.