Ebola Has Come to New York. Here Are 6 Reasons Not to Freak Out, According to an Expert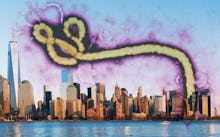 Texas. Ohio. New York. Ebola patients or possible exposures have now appeared in three states with the news that a physician, Dr. Craig Spencer, tested positive for Ebola in Manhattan Thursday evening.
Dr. Spencer had recently returned from Guinea, where he was treating patients with Doctors without Borders (Médecins Sans Frontières, MSF). After arriving back in the United States Oct. 14, he had been monitoring his health and temperature, most likely in accordance with Centers for Disease Control and Prevention guidelines for exposure. When he discovered his temperature was elevated Thursday morning, he alerted MSF, who in turn notified the New York City Department of Health. Emergency workers transported Dr. Spencer to Bellevue Hospital wearing full protective gear and put him in isolation until they could confirm a positive diagnosis.
So once again, we see a spark from the West African Ebola outbreak hit our shores. But despite the anxiety that the deadly disease evokes in the media, it's unlikely to start a fire. Here's why:
1. Bellevue is one of the best-prepared hospitals in the nation.
Bellevue Hospital is one of eight hospitals that New York Gov. Andrew Cuomo had designated as an Ebola treatment center . They had already done test runs preparing for this exact situation  and, from early accounts, handled this challenge exceptionally.
Dr. Greg Dworkin, a pediatric pulmonologist in nearby Connecticut who trained at Mount Sinai Hospital in New York City, told Mic, "There are few places in the US better prepared for this than the NYC Department of Health, Health and Hospitals Corporation (HHC), and Bellevue. The commissioners and directors are professionals, the size and capability of the city health department matches that of many states. The way the patient was handled from first symptoms and tonight's press conference in terms of answering questions about contact tracing shows their preparedness and depth of knowledge."
2. The New York City Department of Health was ready for this.
The New York City Department of Health and Mental Hygiene has been preparing for a potential Ebola case in the city for weeks. They already had Ebola fact sheets on their website, keeping citizens posted on cases elsewhere. By 3 p.m. EDT, they had a statement posted with information . Health Department Commissioner Dr. Mary Bassett  gave a news conference Thursday night to provide additional information about Ebola and the situation in the city. Journalist and Brooklyn native Maryn McKenna notes the department has additional Epidemic Intelligence Service officers regularly assigned to it . Contact tracing has already begun to identify others who may be at risk, including Dr. Spencer's fiancée.
3. The likelihood of a public exposure is extremely low.
It was reported that Dr. Spencer was out and about in the city Wednesday, including on the subway, prior to showing symptoms. Even this possibility was anticipated, noted Office of Emergency Management Commissioner Joseph Esposito in an article last week.  "This is transmitted through bodily fluids, so we don't think it's a high risk of epidemic proportions. Are we going to get a case? We may. The public does not have to worry about an outbreak of Ebola in the city." Vanderbilt University infectious disease physician Dr. William Schaffner concurred: "I think the risk is close to zero. ... I would feel no concern had I been standing next to him on the subway." As a precaution, the bowling alley where Dr. Spencer was present Wednesday evening did not open Thursday.
4. New York has learned from Dallas
Lessons have been learned from Texas Presbyterian Hospital's mistakes. While it is concerning that two nurses became sick after caring for Ebola patient Thomas Eric Duncan, Duncan's close friends and family members (including his fiancée) recently were released from their 21-day quarantine. Even though Duncan was ill for at least two days while he was in contact with them, not a single person in the general public came down with the Ebola virus.
5. New York can follow the examples of Nigeria and Senegal
Both Nigeria and Senegal were recently declared Ebola-free. Senegal had only a single imported case and no secondary infections, while Nigeria had 18 secondary cases after American Patrick Sawyer arrived in Lagos, symptomatic with what was thought to be malaria at first. An immense amount of contact tracing and isolation of cases led to the resolution of that outbreak. In Nigeria alone, more than 18,000 face-to-face visits were made, checking in on contacts to assure they were in place and not showing signs of illness.
6. The U.S. has fought Ebola-like viruses before — and won
Our previous importation of a related virus, Marburg, in a Colorado woman in 2008 who had recently traveled to Uganda similarly did not lead to a single secondary illness, even though extensive precautions were not taken. In fact, she was not conclusively diagnosed with the virus until one year after her infection.
In other historical outbreaks, spread in the general population was not seen, even in resource-poor areas. A case of Marburg virus in 1980 led to only a single secondary infection, in a doctor who was heavily exposed to the patient while he was dying. Not a single person on the passenger plane he took from western Kenya to Nairobi became ill, despite the patient vomiting and displaying other symptoms while traveling. Similarly, a nurse in Zaire (now Democratic Republic of Congo) in 1976 traveled throughout Kinshasa, the capital city, after she began showing symptoms of Ebola. She acquired the virus while treating patients, but no secondary infections occurred in that case either, despite being in close contact with at least 37 individuals throughout her two days in the capital.
So history and current precautions and training in New York City suggest that the risk to your average New Yorker is extremely low. Of course, you can't expect that all New Yorkers will be so calm: