J.K. Rowling Is Releasing a New 'Harry Potter' Story on Halloween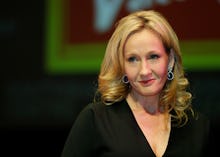 Harry Potter fans are in for a real treat on Halloween.
According to a post on Pottermore.com, the official website for everything related to the boy wizard, author J.K. Rowling will release a new story there Oct. 31. 
The 1,700-word story revolves around nasty witch and former Hogwarts professor Dolores Umbridge. One fan lovingly described her "as the devil in a pink dress that tortured Harry all throughout his fifth year at the school of witchcraft and wizardry."
A statement on Pottermore.com echoed that sentiment: "Umbridge is not only one of the most malicious Potter characters, she is the only person other than Lord Voldemort to leave a permanent physical scar on Harry." 
The story is also filled with tons of new details and even Rowling's opinion about the divisive character.
This is the third short story Rowling has released on Pottermore this year. Since releasing the final book in 2007, Rowling has been juicing the franchise by writing a screenplay in the Potter universe called Fantastic Beasts and Where to Find Them. 
But that's not out until 2016, so fans will have to make do with this.