Everyone Needs to Read This Iranian Woman's Heartbreaking Final Message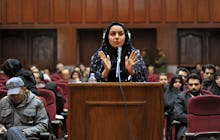 The news: Iranian woman Reyhaneh Jabbari, 26, is dead. Her crime? Defending herself against her rapist.
Sentenced to death in 2007 with murdering her alleged rapist, the Iranian government has confirmed that Jabbari was hanged Saturday at a Tehran prison despite widespread condemnation from human rights groups. Amnesty International told CNN that Jabbari, who claims she attacked and killed former Ministry of Intelligence employee Morteza Abdolali in Sarbandi in self-defense, was subjected to "a flawed investigation and unfair trial." The UN believes her confession was extracted under threat of torture.
But while the Iranian judiciary has successfully put Jabbari to death, they haven't been able to silence her. 
In a heartbreaking audio tape recorded in April and recently released by the National Council of Resistance of Iran, Jabbari sent a powerful message about her treatment by an uncaring and malicious justice system.
The message: Jabbari told Sholeh, her mother, that she had survived a harrowing attack by Abdolali only to become the victim of the authorities:
The world allowed me to live for 19 years. That ominous night it was I that should have been killed. My body would have been thrown in some corner of the city, and after a few days, the police would have taken you to the coroner's office to identify my body and there you would also learn that I had been raped as well. The murderer would have never been found since we don't have their wealth and their power. Then you would have continued your life suffering and ashamed, and a few years later you would have died of this suffering and that would have been that.
Later, she laments that her mother's advice to evade trouble by acting like a lady was "incorrect."
You taught us that as we go to school one should be a lady in face of the quarrels and complaints. Do you remember how much you underlined the way we behave? Your experience was incorrect. When this incident happened, my teachings did not help me. Being presented in court made me appear as a cold-blooded murderer and a ruthless criminal. I shed no tears. I did not beg. I did not cry my head off since I trusted the law.
... The world did not love us. It did not want my fate.
Jabbari concludes that she now will embrace death because she will charge her oppressors in the "court of God," where perhaps the almighty will "pay heed to the fact that sometimes what appears as reality is different from it." She asks that it be arranged that all of her organs be donated after her death.
The full text is available on the NCR-Iran website.
Why you should care: UN human rights experts noted Iran's "abrupt surge in hangings" in early January. According to Iran Human Rights, the regime in Tehran has put at least 411 people to death between the start of the year and July 1 — up from 369 publicly acknowledged executions (and likely a large number of secret ones) in 2013. Offenses that can receive the death penalty in Iran include adultery, homosexuality and drug dealing; Iran is the last country that still executes people for crimes committed under the age of 18. According to the Guardian, Iraq and Iran together accounted for two-thirds of the world's executions in 2013.
Jabbari's story is yet more evidence that Iran's capital-punishment machinery is still in full operation and shows little sign of slowing down. But it's also a reminder that entrenched prejudice and disparities of power are often at work determining who gets sentenced to death and why. Institutional sexism kills every day, and on a scale that proves the world has a lot of work to do.