Neil Patrick Harris Is Finally Getting The Variety Show He Deserves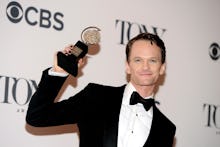 The news: Your prayers have been answered: Neil Patrick Harris is finally getting his own variety show.
Vulture reports that NBC has picked up a U.S. version of the popular British variety show Saturday Night Takeaway. The show, which likely won't be called Saturday Night Takeaway or air Saturday nights, will tape in New York. Instead of a pilot, the peacock has already ordered 10 episodes, though they're not expected to air until next fall. 
Since its inception in 2002, the ITV show is a combination of Saturday Night Live (sketches, sans a steady cast) plus Hollywood Game Night (plenty of celebrity-centric games) and has touches of a talk show that's more on the playful side, like Ellen.
Harris told Vulture that he "couldn't stop smiling" after watching the whole series. "Nothing like this has been done before, and its unique structure fits right into my random skill set. I can't wait to roll up my sleeves and have some fun!"
Finally. Harris has proven that he's an all-around, versatile comedic performer who deserves more than a scripted role (*cough How I Met Your Mother cough*). 
He has a rich resume of hosting live events, including four stints at the Tony Awards and two at the Emmy Awards, and each left Harris stans yearning for more. Harris also opened to rave reviews for his titular role in Hedwig and the Angry Inch on Broadway, and he's always a delight when he guest co-hosts Live with Kelly and Michael. 
Over the summer, Harris' name was also kicked around as a replacement for David Letterman or Craig Ferguson to keep him in the CBS family. That didn't materialize, but this new format seems like a better fit for him. Also, it's arguably plusher to land a prime-time gig where millions of people are watching rather than the post-11:30 p.m. slot, which has a fraction of the viewers. 
Harris even admitted that he wanted a role like this during an interview with Ferguson a few years ago. "I want to do an Ed Sullivan–y kind of show, with all the variety acts," he said. 
There you go, Harris and America.