Finally, the Perfect Website to Help You Pick Netflix Movies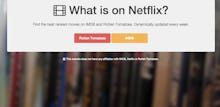 The news: The indecisiveness that comes along with choosing a movie or show on Netflix can be brutal. Everyone's been there, sitting and scrolling through the catalog's tens of thousands of hours of content until you're on the cusp of a mental breakdown.
But no more. An innovative Reddit user concocted What Is On Netflix? a one-stop website that sorts through the top-rated movies, documentaries and television shows based on Rotten Tomatoes and IMDB rankings. It's a bare-bones operation that currently lacks any in-depth search filters (for example, directors), but still gives overwhelmed Netflix users some relief. Plus, based on the creator's reddit thread, it looks like he's ready and willing to make improvements. 
It's not the only solution. Short of Netflix reading a user's mind, third-party websites like this remain the only solution to sift through the streaming service's offerings. (It's hard to justify Netflix's in-house tool of pulling up Taste Preferences of other programs since it's fairly subpar.)
Other fan-created services also help to figure out this problem. There's Flix Roulette, another site created by a Reddit user that sorts movies and shows by genre or an actor's name. Unlike What Is On Netflix? this isn't separated by "quality" content so there's still a chance one might end up with a dud and be even more frustrated. 
Then there's FlickrSurfer, same idea but with a different layout. The advantage this website has over its competitors is that the movie and television posters are prominently displayed. Maybe that can trigger a reminder for user that they wanted to watch something, but totally forgot. And again, this doesn't sort by "quality," either. 
Although these websites aren't a foolproof solution, it's something to help frustrated scrollers suffering from carpal tunnel syndrome.