This Is What the World Series Looked Like 100 Years Ago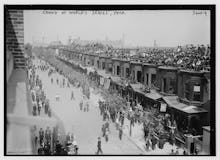 If baseball is a metaphor for America, then there's no better way to see how much society has changed than a look back at the World Series a century ago. 
In 1914, the Boston Braves, who had rallied from last place in July to capture the National League pennant, defeated the heavily favored Philadelphia Athletics in four games. (Though some have noted heavy wagering against Philadelphia by a gambler later implicated in the Black Sox Scandal suggests the A's may not have given it their full effort.)
These images from the George Grantham Bain Collection at the Library of Congress show a far different world than the SportsCenter-driven zeitgeist inhabited by the Kansas City Royals and San Francisco Giants, who are vying for this year's championship. 
But the base paths were still 90 feet, the pitcher's mound still 60 feet, six inches from home plate. Indeed, some things never change.
Fans packed the rooftops outside Shibe Park in North Philadelphia for Game 1. Those houses are still around; here's what they look like today.
The atmosphere for a World Series opener then was no less electric.
Boston catcher Hank Gowdy hit .545 with five extra-base hits and the Series' only home run. (Some regrettable trends never die, apparently.)
Police at Shibe Park kept the peace. Even 100 years ago, Philadelphia fans' reputation preceded them.
Both Boston's Johnny Evers and Philadelphia's Eddie Plank are enshrined in the Baseball Hall of Fame.
Boston's Dick Rudolph, the winning pitcher in both the opener and the clincher, also hit .333 in the series.
The A's were on the losing end of the first sweep in World Series history.
We can't recreate this moment: Shibe Park, which hosted baseball in Philadelphia from 1909 through 1970, was demolished in 1976.
Legendary manager Connie Mack led the A's through the team's first 50 years of existence, from 1901 through 1950.
After the game, Philadelphia second baseman Eddie Collins was awarded a new Chalmers automobile for winning the Chalmers Award, an early version of baseball's Most Valuable Player Award.
The final game of the 2014 World Series begins Wednesday at 8 p.m. Eastern.