If You Love Chocolate, You May Want to Start Stocking Up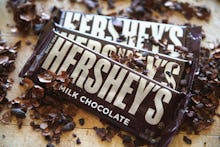 The news: Stock up on your chocolate now, because your favorites candies are about to get a lot more expensive.
The price of a chocolate bar is set to jump about 8% because of the rising cost of ingredients and an increase in global demand. But you won't feel the pain until next year, because Hershey Co. and Mars Inc., America's top chocolate companies, have already negotiated its prices with stores for the holiday season.
What's to blame? Besides your insatiable hunger for Kit Kats, the Associated Press lays out a few reasons.
First, the world's growing an increasingly large sweet tooth that's hard to satisfy. Although North America and Western Europe still account for more than half of global chocolate sales, demand is growing in regions where chocolate is increasingly becoming less of a novelty, like Asia and Latin America.
Bloomberg News recently reported that "surging consumption of chocolate in Asia" has caused the cost of the cocoa bean to shoot to its highest level in more than three years. Demand is only expected to keep growing, because the "market [in Asia] will grow at almost twice the global rate over the next four years."
The Associated Press shines further light onto the staggering amount of demand:
Chocolate sales in Asia are forecast to grow by 23 percent over the next five years and by almost 31 percent in Latin America, according to London-based research firm Euromonitor International. That compares with growth of 8.3 percent in North America and 4.7 percent in Western Europe over the same period.
In turn, the cost of cocoa beans rose to $3,371 a ton in September, but it has since slightly pulled back to $2,991 a metric ton as of Thursday. However, that's still roughly 23% higher than it was in 2012.
Second, there are supply problems. The world's biggest cocoa-producing farms are in West Africa, and nearly 90% of the world's cocoa comes from small, family-run operations that can't keep up with demand and lack of technological advances. The World Cocoa Federation, which is partially backed by Hershey and Mars, is increasing outreach to the farms to help them better manage water and soil to improve crop yields. 
It's interesting to note that nearly 40% of world's cocoa comes from the Ivory Coast, which borders Guinea and Liberia — two countries hardest hit by the Ebola outbreak. The country, however, has yet to record a single case of the virus, and fears of an outbreak hitting the fields haven't materialized. 
Still, it's not all bad. The going price for a 6-pack of Hershey's individually wrapped chocolate bars checks in at $4.27 at Walmart.com. If the 8% is added in, which is how much Hershey predicts the increase will be, it's now $4.68 — a notable increase, but not unaffordable.
Remember, you were warned.