Starbucks Will Start Delivering Coffee in 2015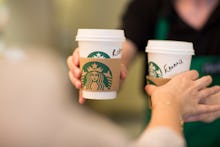 The news: Even if it's one every street corner, Starbucks wants to make sure you can get your fix whenever you want. The coffee chain announced Thursday it's going to start delivering food and drinks in some cities starting next year.
CEO Howard Schultz is envisioning a futuristic world where skinny vanilla lattes and pumpkin cream cheese muffins appear magically at your doorstop. "Imagine the ability to create a standing order that Starbucks delivered hot or iced to your desk daily," he said on an earnings call.
The concept is essentially a Seamless for Starbucks. Thirsty customers can place and pay their orders within a new app, which will then be delivered. It's being tested in Portland, Oregon, next month, before it expands nationwide in the second half of 2015.
Why it matters: Even some Starbucks lovers are doubters. Quartz called the plan "pretty aspirational," because it sounds like an operational nightmare during the morning rush, pointing out, "It'll be difficult to handle a flood of advance mobile and delivery orders at the same time." 
Also, transporting that icy Vanilla Frappuccino or steaming hot Pumpkin Spice Latte isn't exactly delivery-friendly. The former melts quickly and the latter is hazardous if sent on a speeding bike. We can only imagine all those angry tweets the person behind @Starbucks is going to have deal with.
But Starbucks needs to do something, because its sales are lukewarm. It reported disappointing quarterly sales with revenue at $4.18 billion, short of the $4.24 billion Wall Street was expecting. "We are playing offense," Schultz said.
If that offense includes on-demand coffee, count us in.