One Dead in Virgin Galactic Spaceship Crash Over California Desert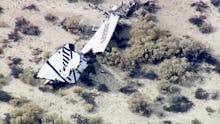 The news: It's the second time this week that the private space-flight sector has suffered a blow.
During a test flight Friday afternoon, Virgin Galactic's SpaceShipTwo plane crashed in the Mojave Desert in California, NBC News reports. Officials say it suffered an "in-flight anomaly" that resulted in the destruction of the test plane.
"During the test, the vehicle suffered a serious anomaly resulting in the loss of the vehicle," Virgin Galactic said in a statement. "The WhiteKnightTwo carrier aircraft landed safely. Our first concern is the status of the pilots, which is unknown at this time."
The Associated Press reports that one pilot is dead and the other is seriously hurt. A witness told NBC News he saw the plane explode midflight before seeing debris scatter across the desert. 
Virgin Galactic is the brainchild of business titan Sir Richard Branson. The private firm's aim is to send tourists, at a cost of $250,000 a seat, into space within the next few years. However, the launch has been marred by delays.
Friday's test flight was the first time Virgin Galactic flew SpaceShipTwo with a new type of fuel, explains NBC News:
The reported anomaly came after SpaceShipTwo fired up its rocket engine in flight for the first time in more than nine months. Since then, Virgin Galactic has switched the plane's fuel mixture from a rubber-based compound to a plastic-based mix — in hopes that the new formulation would boost the hybrid rocket engine's performance.
Virgin Galactic is planning a news conference at 5 p.m. EDT. 
Why it matters. On Tuesday, an unmanned rocket called Antares exploded shortly after liftoff. Although the launch was conducted by NASA officials, the rocket was built by a private company to deliver goods to the International Space Station. 
Since President Obama called for the end of manned space missions in 2010 and drastically cut NASA's budget, private firms like Virgin Galactic have been looking to fill the void. These companies are new, and it's hard to judge what kind of long-term effects these disasters have on them, but it's not a good start.