New UN Report Warns: We Have 86 Years to Cut Out Fossil Fuels — Or We're in Real Trouble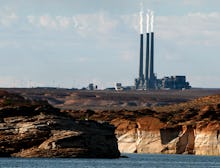 The news: The United Nations issued another dire report Sunday warning that climate change is very real and becoming increasingly unavoidable. In order to avoid "severe, pervasive and irreversible" damage, the UN's Intergovernmental Panel on Climate Change (IPCC) recommended that the majority of the world's electricity be produced by green, renewable sources by 2050 and the use of fossil fuels be discontinued by 2100.
That means we have 86 years to abolish fossil fuels, or we're in serious trouble.
The fourth and final report issued by the panel didn't reveal any surprises, and it wasn't supposed to since it was a culmination of three earlier reports. But the purpose was to underline "the scope of the climate change in stark terms," the Associated Press reports. 
The findings: They're alarming, to say the least. UN scientists say those drastic actions need to happen in order to keep global temperatures from rising 2 degrees Celsius, the threshold for "acceptable levels of global warming." The emissions from fossil fuels need to drop to zero within in the next 86 years so that the temperature doesn't rise.
If we don't get our act together by then, the Earth is on a trajectory with "irreversible impacts." Officials said we're already getting a glimpse of what 2100 could be like with the current rising sea levels, a warmer ocean and melting glaciers in the Arctic. 
At its most extreme, the UN scientists say if emissions aren't reduced, then society will be plagued with "food shortages, refugee crises, the flooding of major cities and entire island nations, mass extinction of plants and animals," the New York Times notes. 
UN Secretary-General Ban Ki-moon sounded very alarming when he spoke Sunday in Copenhagen about the report, according to the AP. "Science has spoken. There is no ambiguity in their message. Leaders must act. Time is not on our side." 
The Obama administration's science adviser John P. Holdren echoed his reaction, reports the New York Times, saying its "yet another wake-up call to the global community that we must act together swiftly and aggressively in order to stem climate change and avoid its worst impacts."
There's hope. With statements like that, it's easy to think there's nothing that can be done. But there is. The technology exists to set the world on a green-friendly track, but we have to snap our addiction to earth-damaging fossil fuels, like oil, coal and gas.
As Quartz notes, it's not a financial issue. The IPCC says the cost of combatting higher temperatures is only 0.06% of global GDP, while the global GDP in the same time frame will increase 300%. "In other words, it is affordable to fight climate change," Kabir Chibber wrote for Quartz.
"We have the means to limit climate change," IPCC chairman Rajendra Pachauri said, according to the AP. "The solutions are many and allow for continued economic and human development. All we need is the will to change, which we trust will be motivated by knowledge and an understanding of the science of climate change."