Someone Might Have Just Leaked the Tracklist to Beyonce's Next Surprise Album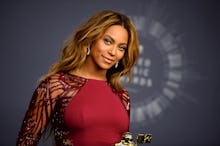 The news: Are Beyonce fans in for an early Christmas gift?
There's a supposed tracklist circulating around Twitter that's igniting speculation the diva is about to drop another super-secret album within the next few weeks, Vulture reports.
The supposed "release confirmation" for Beyonce Volume 2 comes complete with her record label's logo, a very believable list of collaborations (Justin Timberlake, Frank Ocean and Nicki Minaj to name a few) and is snapped at a weird enough angle to make it look the photographer's seconds from being caught. Careful, you little sleuth!
Believable? Or not? Rehinge your jaw and take a look for yourself. 
Fact or fiction? At first glance, this looks very much real. But so do a lot of meticulously planned hoaxes on the Internet. 
Leave it to the Beygency to pick through every detail, starting with the date. The most glaring error is the physical release date, "Monday, November 25." That's actually a Tuesday, so it's either a silly typo or someone needs Calendar 101 lessons. Also, the supposed song called "Good in Goodbye" is a lyric from her fourth album 4's  "Best Thing I Never Had," Idolator notes. 
On the flip side, this person did do their research. One of the songs, called "DONK" features Nicki Minaj and was registered with the American Society of Composers, Authors, and Publishers (ASCAP) database a few weeks ago. 
Another collaboration with Rihanna, "Cherry" was also recently submitted and it "plays into long-standing rumors that the two are supposed to be collaborating on a track together," hypothesizes Vulture.
Lastly, it's not out of the realm of possibility for Beyonce to drop an album out of nowhere. She did break the Internet last year with her overnight release of her latest record that left fans speechless. Why not do it again?
Beyonce's camp has not returned the Huffington Post's request for comment — like she's going to do that and ruin the surprise. It's further proof that this is Beyonce's world and we're just living in it.