Tinder's New Feature Is a Game-Changer for Online Dating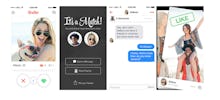 The news: The cure for overzealous Tinder finger is finally here.
The popular dating app will soon launch an "undo" feature, meaning you will get a second chance on people you mistakenly swiped left on. The revelation was buried deep in a Forbes profile of the company, which also revealed that founding CEO Sean Rad is being demoted.
The button is something that users have "been begging for" since Tinder launched two years ago. It's expected to work by giving Tinderellas a way to bring back a profile that they've turned down, just in case they screwed up their chance of true love.
Why it matters: It's unclear when the button will appear, but it's part of a bevy of new features that Tinder is launching as pressure mounts from owner IAC to turn a profit. 
Although the app will remain free, there are plans to launch premium features like "Places," which lets "people who frequent the same spots to meet over the app," Business Insider notes. That should be a relatively easy feat, considering that users spend an average of 90 minutes on the app, compared to 40 minutes on Facebook.
Plus, it'll reduce all that regret and angst that comes along with accidentally swiping left on Mr. or Ms. Right.