Oregon Just Legalized Recreational Marijuana Use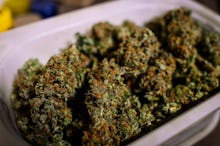 Oregonians voted on Tuesday to approve Measure 91, which would allow adults to grow, hold and, for licensed individuals, sell marijuana in the Beaver State. Oregon is now the third state in the country to approve fully legalize weed.
Washington, D.C., also voted to legalize recreational marijuana use on Tuesday.
As of the morning of Election Day, it wasn't totally clear that Measure 91 would pass. According to a recent survey conducted by the Oregonian and KGW 46% of respondents opposed Measure 91. Around 44% supported the ballot measure. Support was strongest among younger voters: Some 56% of voters aged 18 to 34 expressed support for legalization, compared with 39% of those aged 65 and over.