The Government Wants to Know Everything About You, So They're Checking Your Facebook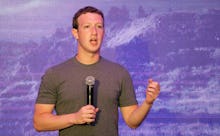 The news: Global governments can't stop snooping on Facebook users.
In the first six months of 2014, governments filed a combined 35,000 requests for user data, which marks a 24% jump compared to the second half of 2013. During the same time, local laws led to a 19% increase in the amount of content blocked by Facebook. 
The social network giant revealed the information Tuesday in its Government Requests Report that details "information about the number of government data and content removal requests."
The requests: Facebook said it's doing its best to fulfill government requests that are actually relevant, like in criminal investigations. 
"As we've said before, we scrutinize every government request we receive for legal sufficiency under our terms and the strict letter of the law, and push back hard when we find deficiencies or are served with overly broad requests," the report stated. 
The timing of the increase coincides in which Facebook is dealing with its "largest ever" request from a U.S. court of 400 people involved in a benefit fraud trial. 
"We've argued that these overly broad warrants violate the privacy rights of the people on Facebook and ignore constitutional safeguards against unreasonable searches and seizures," Facebook said, adding it's still pursuing an appeal to a higher court to "invalidate these sweeping warrants."
The results: In total, the U.S. government made 15,433 requests, and Facebook handed over "some data" in 80% of those cases. The most common type of government request was a search warrant, with 7,700 requests. Around 85% of those requests procured some user data.
Compared with the last six months of 2013, the number U.S. requests increased 22%, but mostly stayed the same at 80% in terms of how much data was turned over to the feds. 
It's not actually that much. In the U.S., the amount of requests are increasing but don't impact a whole lot of users. Its estimated that around 130 million Americans use Facebook, so just 0.011871538% were affected by the snooping government. 
Indeed, these numbers sound alarming, but they're infinitesimal in the grand scheme of things. Facebook said last month it has roughly 864 million users who log in at least once a day, meaning those 35,000 requests are a minuscule number, representing an astonishingly small 0.004050925% of all users.
Facebook's competitor, Twitter, said it was suing the government last month to make cryptic surveillance law requests more transparent to the site's users. And it's still unsettling to hear about the government wanting access to an account that operates under the believe that its private.
But in the mean time, if you're worried about your information being snooped on by the government you can always just log off.