A Disturbing Reports Reveals a Dangerous Behavior Most Americans Do Every Day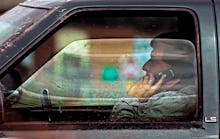 The news: There are laws prohibiting it. We've all seen those scary PSAs about it. Yet we can't stop doing it.
It's texting and driving, and despite that 98% of us are aware of its dangers, nearly 75% admitted to committing the act. A survey released Wednesday from AT&T polled 1,000 U.S. adults about this dangerous habit, and it's going to make you afraid to ever drive again.
The results are startling: Roughly 66% said they have read text messages while waiting at a stop sign or red light, while another 25% defended their texting-while-driving habits because they think they "can easily do several things at once, even while driving."
Respondents provided a laundry list of reasons why they feel the need to text and drive. Around 28% said they would have FOMO, fear of missing out on something, if they didn't immediately check their phones at the first notification. 
Around one-quarter said they think driving while texting doesn't affect their driving performance, despite warnings from the National Highway Traffic Safety Administration that it's six times more dangerous than drunk driving. 
Fourteen percent said it makes them "anxious" not to respond promptly, while 25% said their needy friends expect them to respond "right away."
Just stop it: Distracted drivers on their phones caused more than 1.3 million crashes in 2011. And you'll see tragic stories in the news practically every day involving accidents because a driver was texting. 
The Associated Press spoke to Reggie Shaw, who was 19 in 2006 when he caused a car accident because he was texting and driving. He killed two people. Now he's speaking out against it. "It's something I struggle with every day," he said. "I know that I need to go out and talk to others about it. I don't want others to make the same mistake I did."
Putting your phone away really does save lives.