Jennifer Aniston's Latest Role Is an Oscar-Worthy Testament to Real Beauty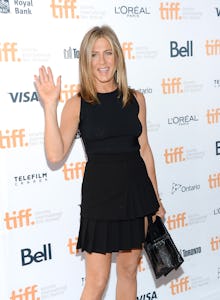 The news: Everyone's best friend Jennifer Aniston doesn't look like the Jennifer Aniston we're used to.
In Cake, the actress plays a "woman whose struggles with chronic pain have made her a royal pain," Variety writes. Aniston's character, Claire Simmons, is addicted to painkillers following a car crash that leaves her disfigured and in constant pain. The former Friends star's performance is already sparking Oscar buzz, but the actress says that the truly "empowering" part of the role was appearing without makeup. 
When pictures first emerged from the Los Angeles set last April, Aniston looked almost unrecognizable with a bare face and dowdy hairstyle, a far cry from Aniston's iconic "Rachel" 'do.
At Saturday's Deadline's 2014 Contenders panel in Hollywood, Aniston described appearing in front of the camera totally exposed as, "so fabulous, and so dreamy and empowering and liberating." 
"The only time I had to sit in the makeup chair was just for scars," she told the audience.
Why it matters: Aniston's statement echoes a similar comment she made in September, about not being embarrassed to appear bare-faced in front of the camera. At the Toronto Film Festival, she spoke about years of pressure to still look like Rachel Green in her prime:
As women, we do feel that we have to live up to an expectation whether it is on camera or going to the market or whatever it is. The truth of the matter is that that is not always the way it is. We don't always have our high heels on. We don't always have our hair and makeup on. And this character is basically someone who had just given up, just on even waking up sometimes.
It's a sentiment that's clearly resonating. American Eagle's Aerie lingerie line has garnered praise for featuring airbrush-free models in its ads — and sales have increased by nearly 10%. Then there's the backlash against advertisements, like Victoria's Secret's "Perfect Body" campaign, for championing unrealistic body types. 
But when she's being lauded for one of the most "impressively raw performances" of her lifetime, Aniston's looks are, rightfully, the last thing on her mind.