4 Truly Chilling Weather Maps That Will Make You Want to Stay in Bed Next Week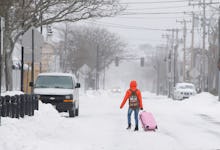 The news: Winter is coming, and there's nothing you can do to stop it.
Next week, a plume of chilly air from Canada is expected to descend upon the United States and bask us freezing temperatures and — ugh — a chance of snow. The map below from the government's weather agency, the National Oceanic and Atmospheric Administration, paints the possibility of a bone-chilling picture.
Basically, there's a 100% chance you'll not want to go outside for much of next week. 
Is it Polar Vortex 2, Electric Boogaloo? Sort of — but it won't be as bad as last year since it's not winter just yet. AccuWeather reports these cold temperatures are from a pocket of cold air that's moving more southward than usual beginning Sunday. Temperatures will dip 10 to 15 degrees below normal.
Even more bad news? No one will be able to escape it.
"Areas from the northern and central Plains to the Great Lakes, the upper Gulf Coast and the Appalachians will feel significant impact from the arctic outbreak," meteorologist Paul Pastelok said.
Beware of the wind, too. It's not just the temperature that'll make the weather miserable — gusty winds will send wind chills to the single digits and teens for the northern states and as low as the 20s and 30s in the southern portion of the country. 
"It is possible single-digit low temperatures occur in parts of the northern Plains and the Upper Midwest, away from the Great Lakes with temperatures plunging to 20 degrees below average in parts of the South," Pastelok told AccuWeather. 
If you want to call a day off next week, meteorologists are forecasting that Thursday will be the coldest. Cities like St. Louis, Oklahoma City, Dallas and Atlanta will be at least 15 degrees below normal with highs reaching the high 30s.
With the coldest air of the season coming soon, it should serve as an unhappy reminder that it's only going to get worse. It's expected the polar vortex is going to make an even more vicious return when it's actually winter.
Stay strong, everyone.