Abercrombie Has Gone From Regina George to Cady Heron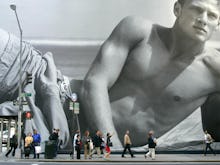 The news: It'll be the most shirtless funeral in history.
Abercrombie & Fitch announced disastrous third-quarter results on Friday as its descent continues from class president to the kid who reads the lunch menu on the intercom. The numbers are scary for the company's tight-fitting bottom line as sales in the U.S. fell 7%, while its outlets internationally declined 15%.
As a result, Abercrombie's stock plunged 15% to near five-year lows. Furthermore, sales declined 12% last quarter as the Ohio-based retailer netted $911.4 million in revenue, a dip from $1.033 billion during the same period last year. 
What's to blame? CEO Mike Jeffries pointed toward weak everything for A&F's terrible quarter.
"Continued weak store traffic was the primary contributor to the weak sales trend, particularly in Europe, where the environment there showed signs of further slowing," he said in a statement. "In addition, the decline in sales of heavy logo product weighed on the sales trend as we continued to reduce that element of our assortment in response to changing consumer preferences."
The past few years have been depressing for Abercrombie. Teens simply got tired of models barely wearing the advertised clothes, all embossed with moose and gaudy A&F logos. That strategy worked for two decades, but not anymore.
Fashion consultant Robin Lewis recently told AdWeek that the retailer's biggest downfall was not innovating.
"Jeffries did a brilliant job 20 years ago when he locked into the zeitgeist of the times," Lewis said. "But Abercrombie didn't look over their shoulder at the younger millennials coming up — this group had a whole different set of values."
Teens fled to cheaper alternatives at Forever 21 and H&M, where there aren't 500 pairs of red sweatpants on sale and nothing else. Also, that "heavy logo product" that made the store infamous in the late 1990s is coming back to haunt them. 
"In 1999, we all wanted to fit in, but in 2013, it's about showing your identity by wearing unique accessories or clothes no one else has," retail analyst Brian Sozzi told Business Insider.  
He pointed to Urban Outfitters, which has perfected the craft of making teens overspend on clothes by simply offering more unique items. Abercrombie is now perceived as "boring," Sozzi said. 
The turnaround plan: Abercrombie is in the midst of shedding its scantily clad, loud and perfume-scented image. Jeffries told Bloomberg in May that the company is remodeling its stores to become brighter and rehabbing its product line to include less logo-wear.
Most notably, the ubiquitous photos of abs have been replaced by mannequins actually wearing the clothes instead of trying to escape them. "Its customer is changing, and we're ready to change with her and him," Jeffries said.
Change is slow, as Friday's earnings indicate. But a peek Abercrombie's website shows its clothes are logo- and moose-free, as are its muscular arms and abs.