The Most Promising Christmas Albums of the Year (Yes, It's Okay to Start Listening Now)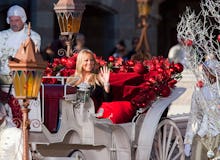 Good news: This week, something meteorologists are casually referring to as an "arctic blast" will make your mid-November feel like a balmy mid-January. Two-thirds of the country will suffer; Minneapolis should have 10 inches of snow by Tuesday. The polar vortex, whether we should call it that or not, is upon us once again.
But something else is upon us too. Whether you're ready or not, radio stations are busting out 24-hour Christmas music, Starbucks has released the red cups and tons of artists are releasing their Christmas albums. For those curmudgeons who only believe that holiday music should wait until after Thanksgiving, think again. The most successful Christmas albums are released weeks and months before the holidays, meaning that people may gripe about the timing in public, but in private, Christmas season starts as early as October for most of us. It's time to admit this publicly. 
It's going to be a good year for Christmas music, though. Here are the big albums that — good and bad — signal the start of the 2014 Christmas season.
1. 'Holiday Wishes' by Idina Menzel
Idina Menzel has long been a Broadway darling, but it took Disney's smash hit Frozen to launch her to the stratosphere. "Let It Go" notched her an Oscar for Best Original Song and led the Frozen soundtrack to dominate the charts for the end of 2013 and a lot of 2014.
She's capitalizing on that fame as only Elsa can: with a blockbuster Christmas album released months before Christmas. The early reviews are (relatively) positive. "As bright, shiny and brimming with simulated cheer as you'd expect — a perfect totem of the season," writes Vanity Fair.
So if you're upset that it came out mid-October, let it go.
2. 'Sings Christmas Carols' by Mark Kozelek
Released on Monday, Mark Kozelek's Sings Christmas Carols has finally proven that he is Charlie Brown in indie rock form.
Of course, Charlie Brown probably wouldn't write a song telling the war on drugs to "suck my cock," but everybody celebrates Christmas differently. If you like celebrating Christmas with downtempo folk music, Kozelek is your man.
3. 'One Christmas: Chapter 1' by LeAnn Rimes
Grammy-winning country-pop singer LeAnn Rimes knows a good thing when she finds it. A decade ago, she found her thing with What a Wonderful World, a country-tinged Christmas record. That record's success is, arguably, why she'll be releasing the Christmas trilogy over the next three years that at least some people have probably been waiting a decade to hear.
Rimes' holiday album has been out digitally since Oct. 28, but her slightly cocked eyebrow on the album cover is basically daring you to pretend you didn't want it.
4. 'That's Christmas to Me' by Pentatonix
Pre-Thanksgiving holiday music may be debatable, but one trend isn't: a capella.
Following the success of their 2012 Christmas album, PTXmas, the season 3 winners of The Sing-Off released their second holiday album on Oct. 17. Hopefully this one will meet their high bar: The PTXmas EP sold 168,000 copies and was the sixth highest-selling Christmas album of 2013. Those who prefer instruments can aca-scuse themselves.
5. 'Christmas at Downton Abbey'
The 45-track album, featuring carols and festive versions of Downton Abbey's theme song, droped Monday.  
According to composer John Lunn, the music transports the listener to a snowy, secret location (last year's Christmas special took place in London). For those wishing they were tending a fire in an estate filled with secrets and freshly hunted duck, this is the holiday soundtrack for you.
6. 'Michael W. Smith & Friends: The Spirit of Christmas' by Michael W. Smith
Country music fans, rejoice: Country acts swapped their cowboy hats for knit caps (in September) for Michael W. Smith's Christmas album.
According to Smith, the album is a little different than one would expect for the singer. 
"Sonically you're hearing me in a way that you've probably never heard me before," he said. "At one point it's like Smitty meets Bublé. There's my granddaughter's voice singing the song from Home Alone, plus the whole orchestral and symphonic feeling of Christmas, mixed together with all these amazing voices and guests."
It just goes to show that the holidays bring out something a little special in everyone.
7. 'At Christmas' by Sara Evans
The country star is releasing her first holiday album in her 20-year career on Nov. 17 (though she recorded "I'll Be Home For Christmas" a few years ago), and she promises that it will be brimming with sentimentality.
"The first song I sang was 'Have Yourself a Merry Little Christmas,' and I kept getting choked up," she told Rolling Stone Country. "And I kept thinking, a Christmas album is very special because it's timeless. I want this album to be special."
8. 'Holiday' by Earth, Wind & Fire
The funk/soul group released their first holiday album in October, and it is... striking.
Of course, the 13-track album includes classics such as "Joy to the World" and "Jingle Bell Rock," but the band stays true to the Earth, Wind & Fire style.
They even "round out" the album with holiday-ified versions of two of the band's well-known songs: "Happy Seasons" (the 1975 album track "Happy Feelin'") and "December" (1978's "September").
9. 'Holiday for Swing!' by Seth McFarlane
The Family Guy funnyman recorded this album during the holidays last year. It's yet another reminder that Seth McFarlane is as good at being a singer circa 1950 as he is scripting raunchy cartoons.
Notably, the album features Christmas mainstays such as Sara Bareilles and Norah Jones. It's going to be a good season.