Brutally Cold Winds Are Coming to Ruin Your Week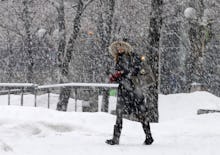 The news: Welcome to the first day of your worst week ever.
Even though the calendar says November, much of the country will experience temperatures that resemble mid-January. A pocket of chilly arctic air, known to meteorologists as an "arctic blast," is flowing into the north-central U.S. and will encompass much of the country later this week, bringing with it this season's coldest temperatures yet.
What to expect: Horrible, no good, very bad temperatures and wind chills, to say the least. Arctic air will grip more than two-thirds of the country with temperatures ranging 10 to, at the most extreme, 40 degrees below normal.
Minneapolis is experiencing the worst of the cold snap. The forecast is calling for as much as 10 inches of snow by Tuesday, with highs not even escaping the teens by Friday. As for the lows, they'll be downright frigid in the single digits. This morning, the Twin Cities commute was hit by blinding snow:
As the week progresses, the polar plunge will expand east and south. Temperatures will plummet 10 to 20 degrees in just a day, as cities like New York drop from the 60s on Wednesday to the mid-40s on Thursday. Atlanta, Nashville and St. Louis, to name a few, will all feel the same drops by Friday.
What it's not: Even though the headlines might call this a blast of the "polar vortex," meteorologists are cautioning that this week's cold weather isn't a repeat of last year's Class 5 Kill-Storm. The polar vortex, a swirling mass of frigid air above the North Pole, is "not related to every push of cold air," ABC News notes.
We can blame this week's polar plunge on the remnants of former Super Typhoon Nuri, a massive storm in the Pacific Ocean that's pushing cold Canadian winds south into the U.S.
"This trough is allowing air that is influenced by the polar vortex, which is still above the poles, to flow down toward Canada and the northern United States," ABC writes. 
Buckle down for a long winter: The arctic air is here for the last few weeks of November.
"Temperatures are expected to remain below freezing for nearly two weeks in the Upper Midwest, Minneapolis included," AccuWeather writes, adding that there's possibility of scattered snow showers across the Great Lakes and even in the Northeast.
Sigh. At least it'll put you in the Christmas spirit?