Moscow Is Currently Under Attack From Mysterious Hellish Fog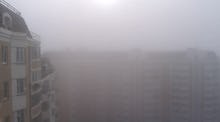 The news: Somebody get Moscow a strong oscillating fan and some Glade PlugIns.
For the past few days, the Russian capital has been steeped in a potent plume of dark fog that reportedly smells like sulfur, rotten eggs and burnt popcorn. Alarmed Muscovites compared it to "hell" and some were even nervous to leave their houses, RT reports.
According to pictures and videos posted on social media, a thick smog has blanketed much of Moscow's streets and made people wonder if it was harmful. The video below shows that smog so thick that it's blocking the sun.
Another picture posted on Twitter shows that drivers could barely see in front of them:
What is it? After days of silence, government authorities confirmed Monday that the fog was from a leak a sulfur dioxide processor at an oil factory situated in a Russian suburb.
The government has said that the city's 11.5 million residents are not in danger, since the amount of hydrogen sulfide and sulfur dioxide in the air remained in the "acceptable levels," ABC News reports. 
In typical Russian fashion, the blame game of the stench's source shifted around. Authorities pointed their finger at a leak coming from a sulfur dioxide processing plant in a Moscow suburb, while the plant's owner, Gazprom Neft, denied there was an accident. State media said the plant had temporally shuttered. "The plant is operating normally, according to the production plan," it said in a statement obtained by Mashable. 
Oddly enough, officials said the fog didn't present any harm to people, but gently reminded them not to go for long walks, just in case they're wrong.