Google Is Taking a Huge Step to Fight the Ebola Outbreak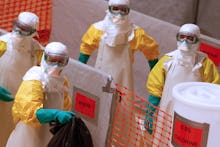 It's getting harder for you to not help the fight against Ebola.
Google has announced that for every dollar donated on its website, it will donate twice as much to causes benefiting victims of the West African Ebola epidemic. The monolithic search engine says it plans to keep doing so until the total donation reaches $7.5 million, with the money going toward Network for Good, which funds four nonprofits — Doctors Without Borders, International Rescue Committee, Save the Children and Partners in Health — battling the virus.
Monday's announcement comes on the heels of a $10 million donation Google has earmarked for several other nonprofits. CEO Larry Page says that his family fund will also donate $15 million toward the fight that has claimed nearly 5,000 lives.
"Our hearts go out to everyone whose lives have been touched by this tragedy," Page wrote on the company's blog.
Tech on the forefront: The fight against Ebola is quickly becoming a competition of which tech giant can donate the most.
Facebook announced last week that it is adding a donation button to the top of its News Feed where users can donate money toward charities fighting the disease. 
"I want to make sure Facebook does its part to help fight Ebola," CEO Mark Zuckerberg said. That's in addition to the $25 million donation he pledged to the Centers for Disease Control and Prevention from his personal bank account.
Zuckerberg joins a growing list other tech titans committed to stamping out Ebola. Microsoft co-founder and billionaire Paul Allen announced in October he's donating $100 million; the Bill and Melinda Gates Foundation previously announced a donation of $50 million.
Drum up donations: All of these actions will hopefully increase donations from Americans toward fighting the Ebola crisis. 
A recent report in the New York Times indicated that charitable donations against the often-fatal virus are "almost nonexistent." It's a phenomenon puzzling nonprofits, considering that companies were quick to donate money following major disasters. 
So, why, according to the Times?
"Perhaps it lacks the visual drama of a natural disaster. Or it is harder for people to understand what their money can do to fight a disease with such a high mortality rate and no sure treatment. It is not even clear that providing food, housing and protective equipment will have any impact — or how those things will get where they are most needed."
Doctors Without Borders said they've received nearly $60 million in donations toward Ebola, which is a steep decrease from the $138 million they received in donations after a powerful earthquake rocked Haiti in 2010.
Now that it's easier than ever to donate, perhaps the donations will flow in.