A Holocaust Survivor Highlights Just Why Nicki Minaj's New Video Is Problematic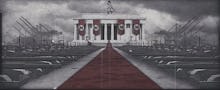 The news: Last Friday, the Internet raised its collective eyebrow at Nicki Minaj's newest music video for her song "Only" because of its intense resemblance to World War II-era Nazi propaganda. She plays a military dictator controlling an army of soldiers draped in black with red emblems, complete with a logo that closely resembles the Nazi swastika. It was pretty offensive, but even worse was the release date: 76 years to the week after Kristallnacht, the night that signaled the worst of the coming Holocaust.
Now, Abraham H. Foxman, a survivor of the Holocaust and director of the Anti-Defamation League, has stepped forward to blast the video for what it is: "unadulterated Nazi imagery." 
The singer is now facing a lot of heat over the poorly themed video, but perhaps no one's reaction matters more than Foxman's. Here is his full statement, as obtained by Billboard (emphasis ours):
"Nicki Minaj's new video disturbingly evokes Third Reich propaganda and constitutes a new low for pop culture's exploitation of Nazi symbolism. The irony should be lost on no one that this video debuted on the 76th anniversary of Kristallnacht, the "night of broken glass" pogrom that signaled the beginning of the Final Solution and the Holocaust.
It is troubling that no one among Minaj's group of producers, publicists and managers raised a red flag about the use of such imagery before ushering the video into public release.
This video is insensitive to Holocaust survivors and a trivialization of the history of that era. The abuse of Nazi imagery is deeply disturbing and offensive to Jews and all those who can recall the sacrifices Americans and many others had to make as a result of Hitler's Nazi juggernaut."
At a time in modern history when anti-Semitism is still widespread, a video like this is totally unacceptable. Four days after the video's release, Minaj meekly acknowledged as much on her Twitter account, claiming the music video's inspiration drew from graphic comic books, such as Sin City. 
She swears she didn't mean to invoke fascist propaganda, tweeting "I'd never condone Nazism in my art." Here's what she said:
It's a weak response for Minaj to claim she didn't understand the symbolism. For some people, that imagery is inescapable. And appropriating that imagery to make a string of jokes about the cult of Nicki Minaj's backside and the speculations about whether or not she had sex with Lil Wayne and Drake is nothing short of disgusting.