America Is Officially Ebola-Free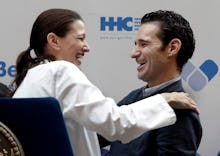 The news: You can put away your hazmat suits, rubber gloves and face masks: There are zero active cases of Ebola in the United States.
America became officially free of the deadly virus Tuesday with the release of Dr. Craig Spencer, the New York doctor who fell ill with Ebola almost three weeks ago following a medical trip to Guinea, where the 33-year-old was treating the disease.
At a press conference announcing his recovery, New York Mayor Bill de Blasio dubbed him "a real hero" and said he's "come back really strong." Spencer gave the mayor and his wife a big hug to as the staff taking care of him erupted in applause.
"Today I am healthy and no longer infectious," Spencer said in a short statement, according to the New York Daily News. "Since I was admitted on Oct. 23, I have received an exceptional level of medical care, support and encouragement."
Clean bill of health: Spencer's release means it's been 41 days since the first case of Ebola was diagnosed in the U.S. 
The first patient diagnosed with the virus, Thomas Eric Duncan, died on Oct. 8 in a Dallas hospital. After that, two nurses who contracted it from him, Amber Vinson and Nina Pham, were treated. Thankfully, an experimental drug helped them survive the infection, and they have fully recovered. 
That was enough to plunge the country into panic. A joint Washington Post-ABC News survey conducted in late October revealed that more than two-thirds of Americans were worried about an Ebola outbreak spreading across the country.
With Spencer's clean bill of health plus the lack of any new cases in weeks, perhaps Americans will finally get a grip. And better yet, we can stop dressing like this: