Austin Is Giving 1,787 Cops What Every City Should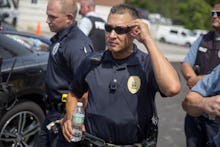 The news: Over the next year, the Austin (Texas) Police Department plans to equip all of its officers with body cameras in an effort to get a better grip of the danger they're encountering — or creating.
Whether they're on foot, bike or horseback, all 1,787 officers patrolling the Texas capital and points beyond will be outfitted with the device. The city is figuring out funding and which model it's choosing, but the decision comes a few years after they launched a pilot program trying out various cameras. 
Critics argued that the department was too slow in enacting the change, but Lt. Ely Reyes denied that the APD was stalling, saying its attention was focused on other projects like retrofitting its vehicles with cameras. 
"Looking for a body camera system that can be triggered when an officer leaves a patrol car, the way APD's vehicle dash cameras work now, would be ideal," he said. "We'll find out what it is we're asking for is out there. And if it's not, we might have to rethink our game plan."
The background: The adoption comes after years of controversies over the use of deadly force by Austin police officers. 
John Schaefer told NBC affiliate KXAN that he wished the officer who shot his father to death in 2013 had a camera on him to see what happened. Schaefer's father, also named John, died on his porch after two bullets from police hit him in the chest following an altercation with a neighbor's dog that reportedly came into his yard. According to the police report, Schaefer pulled out his gun and pointed it at officer Jonathan Whitted. That's when the APD officer fired twice.
"I would have liked to have known how Officer Whitted approached my dad. I would have like to have known if Officer Whitted ever had a gun pointed at him," Schaefer's son told KXAN.
Why it matters: In the months following the shooting death of unarmed black teenager Michael Brown by a white police officer in Ferguson, Missouri, cities like Minneapolis, Phoenix and Seattle have all explored outfitting police forces with body cameras to increase trust and accountability for police officers.
Body cameras work. A report issued by the Police Foundation claims that complaints against departments with camera-equipped officers fell dramatically. In Rialto, California, the results were "striking," the New York Times reports: "Even with only half of the 54 uniformed patrol officers wearing cameras at any given time, the department over all had an 88% decline in the number of complaints filed against officers, compared with the 12 months before the study, to 3 from 24."
Heck, it's even something the ACLU likes, which is sort of weird, since law enforcement and increased surveillance are two things the civil rights group often targets.
"We don't like the networks of police-run video cameras that are being set up in an increasing number of cities. We don't think the government should be watching over the population en masse," the ACLU's Jay Stanley told the New York Times. "When it comes to the citizenry watching the government, we like that."
And in situations like killing Michael Brown, a camera placed on officer Darren Wilson could have provided a clear look at what happened on that August day — especially when he and witnesses are giving very different stories.