Nick Jonas Is Actually an Incredible Artist, and His New Album Proves It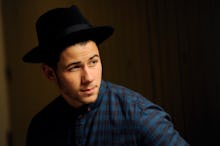 It's probably a little hard to be Nick Jonas. It's gotten to the point where he can make legitimately good music and few people will notice because most are too busy making Jonas Brothers jokes.
From Jay Z declaiming, "No I'm not a Jonas Brother, I'm a grown-up / No I'm not a virgin, I use my cojones," to Taylor Swift penning an angry song or two about middle brother Joe, the brothers Jonas have long been a punchline in pop music. After a period of intense fame, they faded into near-total anonymity. Despite a handful of unsuccessful attempts to maintain cultural relevancy, the Jonas Brothers have largely remained a specter of their Disney Channel past, an afterthought in an already crowded field of washed-up boy bands clinging to fame. 
All that should have changed this week. On Monday, youngest brother Nick released Nick Jonas, his third attempt at a solo project and his most impressive to date. Thanks to a drastic change in sound, an even more drastic image overhaul and a shrewd approach to marketing and collaboration, Jonas' attempt at A-list pop stardom isn't as far-fetched as it once would have sounded. So why isn't anyone taking it seriously?
A smart collection of R&B-tinged pop, Nick Jonas sounds like nothing you'd expect from a Jonas brother. Led by the strength of second single "Jealous," Nick Jonas follows the lead of many of the last two years' most successful male pop albums, most notably the blue-eyed techno-soul of Justin Timberlake's 20/20 Experience and Robin Thicke's Blurred Lines. Lacking Timberlake's superstardom and Thicke's penchant for controversy, Jonas instead sought to carve out his own pop niche, trading the Max Martin-fueled pop bombast of current Top 40 radio for the same brand of R&B-heavy pop that helped Ariana Grande's My Everything dominate 2014.
The result is an album that sounds fresh but not forced, a contribution to the current pop conversation that doesn't feel desperate like, say, when NKOTBSB (literally, New Kids on the Block + Backstreet Boys) tried to be a thing. Jonas knows his own strengths — an ear for a good hook, a killer falsetto — and plays to them. Album opener "Chains" is a sexy track that has shades of Drake and The Weeknd. Recent single "Teacher" picks up where "Blurred Lines" left off (recognize that opening bass note?) but, fortunately, leaves out the misogyny. The soulful piano and singalong chorus of "Wilderness" makes it a strong contender for a future single, while the spare arrangement of "Push" is the perfect backdrop for Jonas to show off his falsetto. It's a far cry from the days of "Burnin' Up," and a welcome one.
One of the reasons it's being ignored, though, is that the album has come with its own strange marketing campaign. The Nick we hear on Nick Jonas is a purity ring eschewing lothario — he declared recently that he hopes people have sex to his music. His newfound overt sexuality has carried over into his public life (or vice versa), too, as evinced by a recent interview about the importance of a healthy sex life as well as some infamous, Marky Mark inspired crotch grab photos. This isn't the Nick Jonas who preached abstinence, and as such it's the first time he's really gotten people talking.
But that's what people have been paying attention to, and in the process they're missing the real quality of the record. With the exception of a cameo from fellow Disney Channel alum Demi Lovato, Nick Jonas enlists collaborators that are more Pitchfork than pop, including hip-hop artist Angel Haze (on standout track "Numb") and rising R&B star Tinashe (on the "Jealous" remix). He chose a lesser-known team of producers and songwriters, too, allowing both for a chance to break free of pop radio's homogenization and an easier means for Jonas to recraft his identity as an artist. He promoted the album with a highly publicized gay club tour (to the dismay of some), another move that separates him from his Disney roots and opens him up to a new audience.
For those wondering if all this calculation indicates an artist with no real talent, think again. Jonas has proven himself time and time again, with the Jonas Brothers, sure, but more importantly with outside projects like his starring role on Broadway's How to Succeed in Business Without Really Trying. That was only the most recent accomplishment in a Broadway career that began when he was a child. The first of his brothers to get a record deal, he also holds the most songwriting credits of the three. 
So before you make another Jonas Brothers joke, give Nick Jonas a listen. You might surprise yourself with how much you like what you hear.