This Evil Mall Is Slapping Stores With Fines if They Don't Open on Thanksgiving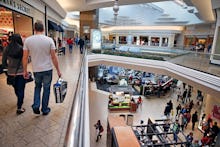 The news: A mall in upstate in New York is ensuring its store owners and employees have the worst Thanksgiving ever.
Stores at the Walden Galleria in Buffalo ("the premier shopping center in Western New York") are being forced to open their doors at 6 p.m. that Thursday, and if those stores choose to let employees spend time with their families instead, mall management plans to slap them with a fine.
It's unclear how much the fine will be, but it's likely a move to stay "competitive," considering other malls in the area are opening around the same time. Mic reached out for comment from the mall's owners, Pyramid Management Group, regarding the decision, but have not heard back.
The reaction. As Consumerist points out, the forced hours open a Pandora's box of problems for smaller stores that don't have the manpower or budget to handle the extra time, unlike their big-box competitors that were planning to open early regardless of the mall's rules.
One such manager is Shaun Deutsch of Tee Shirt University. He told Buffalo Time Warner Cable News that his store will open by 6 p.m. so he doesn't get fined. 
"We're just stuck following the rules, because if we didn't, we'd be fined by the mall and being a small company, that's substantial to us," he told the channel. "We can't just pay that. We have to stay open."
Deutsch added that finding people to work on Thanksgiving has been difficult. "I've been forced to schedule myself because I can't find anyone else, really, to help me out," he said
Is opening earlier worth it? As Black Friday continues to dissolve into irrelevance as stores open Thursday instead, businesses are operating under the idea that it's helping their bottom line.
Truth is, it's not. Stores like Macy's, JCPenney and Best Buy are only celebrating Brown Thursday because everyone else is doing it, not because it's bringing in the bucks. Retailers think they're conceding sales to competitors if they're not open, even though that's not true. Money reports:
The battle for holiday sales and when stores should open is even more muddled by the fact that consumers can shop to their heart's content no matter what the day, 24/7/365, because e-retail never closes.
And these Thanksgiving hours aren't boosting overall holiday sales. "Rather, sales on the holiday simply displace sales that would otherwise have been rung up on Black Friday or later in the season," the site said.
That's something the Walden Galleria should consider, since acting like the Grinch isn't the cheeriest look.