Dear Hollywood: Please Leave 'Hocus Pocus' Alone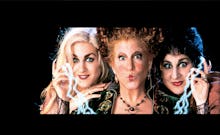 The news: The Internet's penchant for nostalgia soared to new heights Wednesday when Bette Midler hinted there's a very slight chance of a sequel to Hocus Pocus, the 1993 horror-comedy that virtually every young adult watched during their childhood.
The sort-of revelation emerged during a Q&A on Reddit the actress/singer was conducting for her new album. A user has had enough of rewatching the original 1993 beloved Walt Disney classic about a trio of evil sister witches and gently suggested there should be a new one. 
"You have to go to send in your cards to the Walt Disney company," Midler said. "The ball's in their court." Shortly after, she (or her handler, presumably) edited the top question to tell fans they should "inundate the Disney company" if they really want another sequel. 
"I have canvassed the girls [Sarah Jessica Parker and Kathy Najimy] and they are willing to do it, but we have no say in it," she added. 
Disney told BuzzFeed it had no comment about Midler's comment, so we're all just left to twirl in the breezes of our imagination of what could be.
This seems like a good idea, but it's really not. Hollywood loves a sequel — or multiple ones. And understandably so, since it's a surefire way to easily squeeze money from people thirsty for a repeat of a beloved franchise. Look at the positive buzz a Hocus Pocus: The Sequel is generating even though it's not happening (yet). 
Hollywood's business inclination to make a sequel of a movie simply because it did at the box office is, well, stupid. Yes, the success of the Marvel Cinematic Universe suggests that sequels can be thoughtfully planned and executed, but sequels for sequels' sake almost always miss the mark. Miss Congeniality 2: Armed and Fabulous was anything but; then there was the abominable Grease 2. The list can go on and on. These movies are an important reminder that perhaps we don't need a sequel just become some bozos asked to it, because it runs the real chance ruining the original. 
The Daily Dot made a great case against the recently announced Toy Story 4. Writer Dominick Mayer admitted "it's hard not to be skeptical about the whole prospect," since it's hard to capture the original film's magic — and do it a fourth time. Sure, Toy Story 3 was a universal success, and the fourth installment will likely hew closely to the original series with Pixar bringing the original director back on board. But as Mayer writes, there's still something tacky about making it in the first place.
"Most sequels feel at least a little bit gauche, but we generally tolerate them because that's part of how Hollywood has worked for as long as the last couple generations have been alive," he writes. "But with Toy Story, a trilogy that helped a generation of moviegoers accept the inevitability of growing up and reassured them that the things they loved would remain happy even after we all found new, more mature interests and moved on from them, it feels more akin to a slight."
The same could be said for a Hocus Pocus sequel. Why bother imitating something that was done perfectly the first time, only to ruin it the second time around?