Delta Airlines Had an Awful Response After It Lost a Passenger's Dog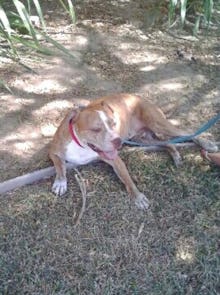 It's understandable when an airline loses a bag — they all look the same, after all — but a dog? That's downright irresponsible — and a nightmare for one Florida man.
Frank Ramano is furious with Delta Air Lines after it lost his dog Ty before a flight from Los Angeles to Tampa, Florida. The carrier's search for the friendly 6-year-old pit bull is entering its second week after it "disappeared" on the Oct. 31 trip.
Ramano said an airline representative told him before takeoff that the dog had chewed through his crate and bolted from Los Angeles International Airport. The bizarre incident has left the dog owner understandably angry and depressed.
"I have no clue how they could lose a pet like that," he told Tampa's WTSP-TV. "To me it sounds like they don't care. They sound like they lost a piece of baggage. He's like my best friend. He's another part of our family."
As if that weren't bad enough, Ramano said Delta has repeatedly changed its story about the incident. An airline representative supposedly told Ramano he just needed to identify the dog after its disappearance, but then admitted Ty was lost. 
At one point, Delta allegedly called Ramano to say Ty was actually at Tampa International Airport, even though WTSP confirmed the dog was never there.
"I have a feeling someone stole him or something," he said. "This is a fishy story."
Delta's response: Ramano, who told KCBS-TV in Los Angeles that he's been in perpetual tears since the disappearance, said Delta offered him a $200 flight credit toward a future flight as compensation. The airline claims the search is still ongoing. 
"Delta continues to investigate what happened but early indications show procedures were followed and the dog may have compromised the kennel on its own," an airline spokeswoman told Mic. "Delta immediately worked with LAX airport teams and the customer to locate the dog but was unsuccessful."
"We remain in contact with this customer and we are fully supporting the search for their pet. Delta understands that pets are an important member of the family and regrets this occurred while this pet was entrusted to our care."
The airline has a troubled track record when it comes to transporting pets. Four years ago, Delta lost a small dog named Paco in Mexico, and again, only offered the owner a $200 credit. And in 2008, an award-winning dog escaped on the tarmac at John F. Kennedy International Airport in New York prior to a Delta flight. The dog was never found.
But no amount of money or flight credits can alleviate Ramano's pain. 
"I'm not going to fly Delta Air Lines ever again after this happened," he told WTSP. "I don't trust Delta."
A little humility from Delta, however, might help.